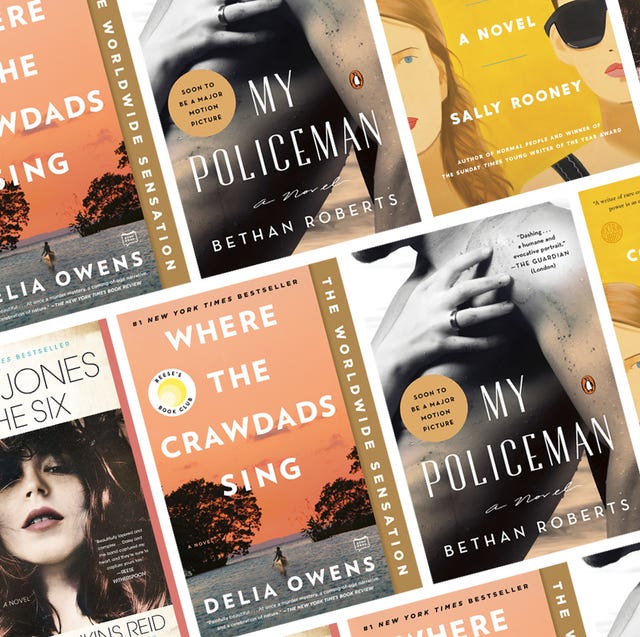 Courtesy Penguin Random House
Every year, dozens of books are translated to the screen, whether it be in the form of a film or television show, bringing to life the rich tales we've adored for so long. This past year has been packed with high-profile book adaptations, including sci-fi epic Dune, Jane Campion's neo-Western The Power of the Dog, and Lady Gaga-fronted crime thriller House of Gucci. So far, 2022's release slate is brimming with promising adaptations sprawling across a variety of genres, ranging from beloved classics (Persuasion) to psychothrillers (Deep Water) and romances (My Policeman). In preparation for a year stuffed with film and TV adaptations, we've rounded up 15 literary adaptations we're excited to see grace our screens.
Advertisement – Continue Reading Below
Conversations with Friends
Sally Rooney stans make some noise! After Hulu's 2020 limited series adaptation of Rooney's beloved novel Normal People took the world by storm at the start of the pandemic, her debut novel, the equally sensational Conversations with Friends, will be receiving the adaptation treatment next with the same creative team behind it (including Oscar-nominated director Lenny Abrahamson). It tells the story of Frances and Bobbi, two Dublin-based students who become romantically intertwined with an older married couple, Nick and Melissa. The 12-episode series will star newcomer Alison Oliver, Sasha Lane, Joe Alwyn, and Jemima Kirke and is set to premiere in the spring.
Daisy Jones & the Six
Taylor Jenkins Reid's best-selling 2019 novel charts the Fleetwood Mac-esque rise and fall of the titular fictional rock band in the 1970s. Told in the structure of an oral history, the story even includes original song lyrics. In an act of perfect casting, Riley Keough (who literally has rock roots; her grandfather is Elvis Presley) playing Daisy Jones, an enigmatic solo artist who rises to rock-superstardom when she teams up with The Six, a band whose pompous frontman, Billy Dunne, will be played by Sam Claflin. Production for the Amazon series started on Sept. 27, but there's no official release date yet.
Where the Crawdads Sing
With this adaptation, as well as Daisy Jones & the Six, Reese Witherspoon is continuing her streak of scooping up some of the most popular books from recent years and turning them into Hollywood adaptations under her production company, Hello Sunshine. Delia Owens' debut novel is a coming-of-age story that centers on Kya, an orphaned girl growing up in the marshlands of North Carolina in the 1950s who gets blamed for the death of a local popular guy, Chase Andrews. Starring Normal People breakout star Daisy Edgar-Jones, Taylor John Smith, and Harris Dickinson, the film is set to be released on July 22, 2022.
Persuasion
Jane Austen's novels have been translated to the screen for as long as we can remember, and they've increasingly received modernized interpretations (see: Clueless and Emma.). This year, Netflix will retell this Regency era-set classic with a "modern, witty approach." Dakota Johnson will play Anne Elliot, the 27-year-old unmarried protagonist who reconnects with Captain Frederick Wentworth, a dashing and now-wealthy naval officer whose marriage proposal she turned down eight years before.
My Policeman
Bethan Roberts' 2012 novel centers on a heartbreaking love triangle between a police officer named Tom Burgess, his wife Marion, and a man named Patrick in 1950s Brighton, England. Set in a time when homosexuality was still illegal in Britain, Tom knows it would be "safer" for him to marry Marion than to be in a relationship with Patrick, so Marion and Patrick decide to begin sharing Tom, which ultimately proves to be destructive. On track to steal Hollywood's heart, Harry Styles will lead as the titular policeman. Opposite him will star The Crown's Emma Corrin and David Dawson, and the film is expected to land on Amazon later in 2022.
Blonde
A lot has been said, written, and filmed about Marilyn Monroe over the years, and yet again, a biopic about the star will be released after almost 10 years in the making. Blonde is a 700-page, Pulitzer Prize-nominated novel by Joyce Carol Oates that tells a fictionalized account of Marilyn Monroe's private life. Ana de Armas will star as the Hollywood icon, and it'll feature a score from Nick Cave & Warren Ellis. While the film hasn't received an official date yet from Netflix, dig into the enormous book or watch Michelle Williams' underrated performance in My Week with Marilyn in the meantime.
The Nightingale
Set against the backdrop of World War II, Kristin Hannah's novel tells the story of two sisters coming of age in France as they struggle to survive the German occupation. The story is inspired by the women of the French resistance who aided downed Allied soldiers in escaping Nazi-occupied territory and helped hide Jewish children. Actress-turned-director Mélanie Laurent will helm the adaptation based on a script by Dana Stevens. With real-life sisters Dakota and Elle Fanning starring, this will mark the first time the duo will play sisters on screen. After being delayed for the past two years, the film will finally get to grace the big screen on Dec. 23, 2022. Third time's the charm, we hope.
Killers of the Flower Moon: The Osage Murders and the Birth of the FBI
A Western crime drama, David Grann's nonfiction book Killers of the Flower Moon: The Osage Murders and the Birth of the FBI investigates a series of murders of the Osage people in Osage county, Oklahoma that took place in the early 1920s after valuable oil was found on their land. The murders sparked a major investigation from the newly-formed FBI. Martin Scorsese's follow-up to The Irishman and first film with Apple TV+ will star a myriad of some of the best working actors, including Jesse Plemons, Leonardo DiCaprio, Lily Gladstone, Brendan Fraser, and Robert De Niro. Production wrapped last fall, so we can hope to see the film receive a 2022 release.
Deep Water
Patricia Highsmith has long been an inspiration for filmmakers, with her work serving as the source material for films including Purple Noon, The Talented Mr. Ripley, and Carol. Deep Water centers on Vic and Melinda Van Allen's loveless marriage as the couple begin to play mind games that turn deadly after their marriage crumbles. Former real-life partners Ben Affleck and Ana de Armas will star in the erotic psychological thriller. While it was originally slated to be released in theaters on Jan. 14, 2022, it will now stream on Hulu at a still-undisclosed date.
The Talented Mr. Ripley
Speaking of Patricia Highsmith, her quintet of Tom Ripley novels, the first installment of which received a film adaptation in 1999 starring Matt Damon and Jude Law, is being turned into a TV series by Showtime titled Ripley. Set in the early 1960s, it follows the title character who is hired by a wealthy man to travel to Italy with the task of convincing his son, Dickie Greenleaf, to return home. The eight-episode series will star Andrew Scott in the titular role, as well as Johnny Flynn and Dakota Fanning. It's anticipated to be released some time in 2022. 
White Noise
Don Delillo's 1985 postmodern classic follows a couple, Jack Gladney and his fourth wife, Babette, and their four children as they find themselves at the center of an environmental disaster in their small Midwestern town. As part of a recent deal to produce films for Netflix, writer-director Noah Baumbach will reunite with frequent collaborators Greta Gerwig (who is also his partner) and Adam Driver, who will star in the lead roles. Jodie Turner-Smith, André 3000, Raffey Cassidy, Don Cheadle, Alessandro Nivola, and his children, Sam and May Nivola, will also star. While no release date has been set yet, production took place starting in the summer, so we can expect to see it arrive on the streamer later in 2022.
The Wonder
Emma Donoghue's novels are once again getting the big-screen adaptation treatment, with Room having received critical success and a handful of Academy Award nominations (and one win) almost six years ago. The Wonder, a psychological thriller inspired by the 19th century phenomenon of the "fasting girls," is set in the Irish midlands circa 1862 and follows 11-year-old Anna O'Donnell, a young girl who stops eating yet remains alive and healthy, and Lib Wright, an English nurse who is brought to the small impoverished village to observe. Florence Pugh will star as Lib, with Disobedience and A Fantastic Woman director Sebastián Lelio directing and co-writing the script with Donoghue and Alice Birch.
Three Women
Lisa Taddeo's debut nonfiction book is an intimate portrayal of female desire told from the true experiences of three American women who suffered for their sexual desires. There is Lina, a housewife in suburban Indiana who immerses herself in an affair with her high school sweetheart to escape from her passionless marriage. Sloane is an entrepreneur in the Northeast who has an open marriage with her husband Richard that becomes endangered after two strangers enter their lives. Lastly, there's Maggie, a student in North Dakota who must deal with the aftermath of accusing her teacher of inappropriate behavior. In the Showtime series, expected in fall 2022, Shailene Woodley will play Gia, a writer who persuades each of these three women to tell their stories. Betty Gilpin will play Lina, DeWanda Wise will play Sloane, and Gabrielle Creevy will play Maggie.
The Stars at Noon
Set in 1984 against the backdrop of the Nicaraguan Revolution, Denis Johnson's novel follows an English oil businessman and American journalist-turned-prostitute who become romantically intertwined. Soon, however, their situation becomes riddled with lies and conspiracies, causing them to attempt to flee the country and leaving them with only each other. The A24 film will be directed by French auteur Claire Denis and will star Joe Alwyn and Margaret Qualley as the unnamed characters. Production in Panama wrapped in December, so we hope that it'll be ready for a 2022 release.
Exciting Times
Naoise Dolan's stunning debut novel centers on 22-year-old Ava, an Irish expat teaching English grammar to children at a TEFL school in Hong Kong. She soon becomes entangled in a love triangle with Julian, a 28-year-old affluent English banker who doubles as her roommate, and lawyer Edith. Dolan's writing has drawn many comparisons to Sally Rooney's work, largely due to the way both writers handle topics such as intimacy, identity, and class dynamics, but Exciting Times is a superb book in its own right. Shithouse director Cooper Raiff will direct the limited series for Amazon Studios and Phoebe Dynevor will produce and star as Ava. At the moment, there is no release date for the series, although we hope to see it on our screens soon.
This content is created and maintained by a third party, and imported onto this page to help users provide their email addresses. You may be able to find more information about this and similar content at piano.io
Advertisement – Continue Reading Below