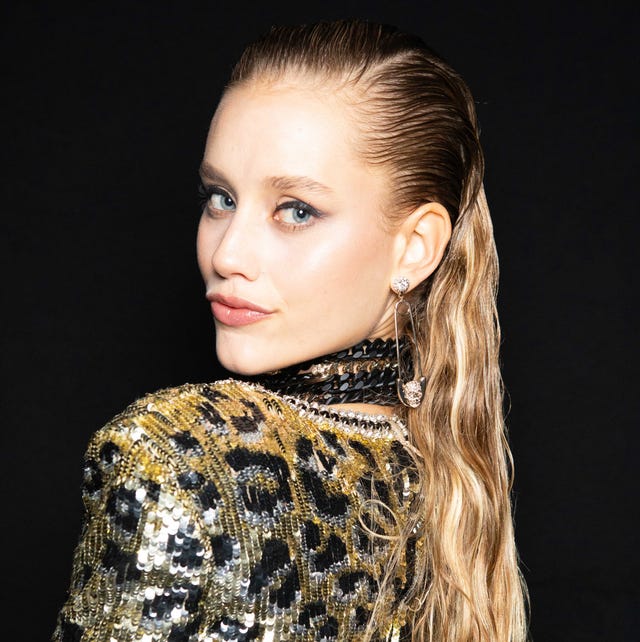 Rosdiana CiaravoloGetty Images
It's tempting to think all hairbrushes are created equal, but there's a time, place, hair texture, and hair concern for each of them.
Plastic hairbrushes may scratch the nostalgia itch for you, but they could also be quite damaging to your hair. The alternative? Enter: Boar bristle brushes. "Boar bristles naturally have more tension, getting hair smoother and shinier," says Giovanni Vaccaro, Co-founder and Chief Brand Officer at Glamsquad. Natural boar bristles are gentle on all hair textures without compromising on how well they slick and glide through hair. So they're able to detangle, tackle frizz, and add shine without tearing the hair.
These brushes are also effective at distributing your hair's natural oils from roots to ends and leaving behind a polished, healthy sheen. "If your hair is wavy, curly, or frizz-prone, a boar bristle brush is the way to go. It smooths out frizz and helps elongate your curls in a gentle way," says Clayton Hawkins, celebrity hairstylist and Tangle Teezer Brand Ambassador. "Curly hair is inherently more susceptible to damage," he added, so it's important that every step of your hair routine keeps that in mind and treats your curls with care.
Unlike most hairbrush options, boar bristle brushes are often plastic-free, so if you're on a low waste journey, a boar bristle brush may be the way to go. However, if animal-free is your priority, there are vegan and ethically sourced options that deliver similar results. With the help of professional hairstylists, we've gathered up the best boar bristle brushes and a few vegan alternatives for every hair texture, styling need, and beauty preference.
Advertisement – Continue Reading Below
1
Extra Small Boar Bristle Hair Brush
You pretty much can't talk boar bristle brushes without leading with Mason Pearson. It's the gold standard in the category. What's better is that this mini version also saves valuable countertop real estate. "Use it for smoothing ponytails, brushing out waves, or reviving any style," says hairstylist Clariss Rubenstein whose celebrity clients include Sarah Hyland and Sofia Vergara. Need an even stronger endorsement of this one? Rubenstein uses this brush on her clients and has one that lives in her purse.
2
Large Round Bristle Brush
Hawkins's favorite boar bristle brush is Oribe's Large Round Brush. This one is a little bit of an investment, but the high-quality boar bristles and ergonomic wooden handle make achieving maximum volume and shine easy breezy. "It glides through the hair so nicely and smooths out even the tightest curls."
3
B4 Boar Bristle Round Hair Brush
Round brushes make blow-drying and styling long hair a breeze—especially when the bristles are made of boar hair. Rubenstein swears by the B4 Boar Bristle Round Hair Brush by Ibiza. "They give the perfect tension and have a cork handle which makes them so much easier and more comfortable to use. [Plus,] no slipping"
4
Vegan Boar Bristle Hair Brush
This "boar bristle" brush is vegan but you wouldn't know the difference between these hairs and the real deal. The lightweight tool detangles all hair types while gently massaging the scalp with soft ballpoint tips. 
5
Condition Travel Pure Boar Bristle Brush
The high-quality bristles on Raincry's Condition Travel Pure Boar Bristle Brush close the cuticle to lock in shine while the flexible latex cushion facilitates a gentle scalp massage. It's like if your old paddle brush went to a fancy boarding school in Switzerland.
6
Porcupine 2.75 Inch Nylon and Boar Brush
If you're new to boar bristle brushes and not ready to drop the big bucks on one just yet, Hawkins also loves the Spornette G Porcupine Round Brush. "If you're a little more budget-conscious, Spornette makes a great round brush that I also always keep in my kit," he says. "The more you use the Sporette brush, the better it gets. I have a few that are over five years old that are still incredible!" This budget-friendly option has two types of bristles and clocks in at under $20.
7
Naturally Smooth Style Boar Brush
Goody's Boar Brush is another solid affordable option if you didn't quite budget for a new hairbrush this month. This one is truly a steal, but don't let the price point fool you into thinking you're not getting a super high-quality tool. It's made with 100% boar bristles, has a slim, easy-to-hold handle—and at five bucks it's a total steal.
8
B5 Boar Brush for Fine or Color Treated Hair
Certain brushes are better equipped to care for hair that's been bleached, dyed, or needs a little extra love. Vaccaro likes Ibiza's B5 Blonde Boar Bristle Brush for processed hair because the bristles are softer and create less tension than standard boar bristles. This version is even gentle enough for damaged hair. 
9
Style-Up Teasing Foldable Hair Brush
Lots of points on the boar bristle brush's resumé have to do with detangling or smoothing the hair, but some boar bristle brushes have a whole other set of skills. For all your teasing needs, Rubenstein recommends the Olivia Garden Style-Up Teasing Foldable Hair Brush. She uses this handy little brush to add volume to updos or to lift flat hair.
This content is created and maintained by a third party, and imported onto this page to help users provide their email addresses. You may be able to find more information about this and similar content at piano.io
Advertisement – Continue Reading Below