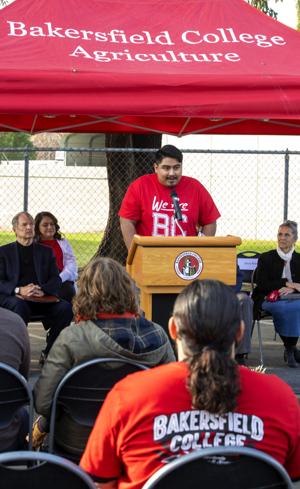 Bakersfield College broke ground Friday on its new Edible Education Garden, a new venture that supporters say will bear fruit, so to speak, for students' educations, as well as their health.
The project will be a little over a half-acre on the east side of campus, easily visible from Mt. Vernon Avenue, said Jessica Wojtysiak, dean of instruction for the agriculture & family and consumer education departments.
The garden will be open to all students. It will be a laboratory for those studying agriculture, everything from the science of soil to crops. Its bounty will be available for students in the culinary arts program who will be cooking for the campus's restaurant, Renegade Room.
"One of the best forms of education is experiential education," said BC interim president Zav Dadabhoy.
The harvest will also go to the school's Renegade Pantry, which provides assistance, including food.
"This is our students' garden, and it will always be their harvest," Wojtysiak said.
She added that even those students who are taking classes in child development may be able to take youngsters under 5 years old on "field trips" to the garden.
The Edible Education Garden is scheduled to be completed by January, according to the Grimm Family Education Foundation.
The foundation has been a supporter of other edible gardens modeled on Alice Waters' garden in Berkeley.The foundation has edible gardens at charter schools Grow Academy Arvin and Grow Academy Shafter and the Edible Schoolyard Kern County in Bakersfield.
Adventist Health and BC contributed initial funding for Phase 1 of the project.
Daniel Wolcott, president of Adventist Health in Kern County, said the new garden will be a place that inspires "health, wholeness and hope."
Jesus Rojas, a BC student majoring in plant science, said the garden will be good for the campus. He said that agriculture requires technology and complex engineering. He's looking forward to planting a little bit of everything in the garden.
"We feed most of the world," he said. "The earlier people get exposed to gardening, the better."
You can reach Emma Gallegos at 661-395-7394. 
Source link