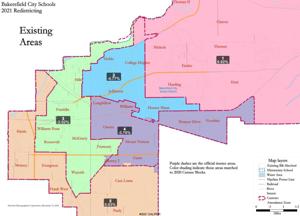 The Bakersfield City School District board considered four prospective new trustee area maps as a part of the redistricting process that happens in every school district every 10 years.
During a discussion of the maps at the board's December meeting, trustees indicated that they were leaning toward one option provided by National Demographics Corp., which made very few changes to the trustee areas.
The board is scheduled to have a public hearing and choose a final map to submit to the county at its Jan. 25 board meeting, according to Superintendent Mark Luque.
Three of the maps were prepared by the demographer, and a fourth public map was offered up by Equity Maps Coalition.
At a previous board meeting, Marguerite Leoni, a Bay Area-based attorney at the firm Nielsen Merksamer, said the board's current map has a lot of strengths, including a taking into account of school attendance boundaries and a long history of electing minority candidates.
The main flaw in the current map, she said, is that the population difference between Area 1, represented by Lillian Tafoya, and Area 2, represented by Pam Baugher, is too great. Area 1 is 9.92 percent above the average population of the five areas, and Area 2 is 4.77 percent below. That's a 14.69 percent difference, and the federal standard is below 10 percent.
One map, labeled NDC 101, simply extends the easternmost boundary of Area 2 into Area 1 and squares it off at Valencia Drive. It's a small change, but it brings the map into compliance. In that scenario, the greatest deviation between two trustee areas is 6.5 percent.
Two other maps make greater changes, mostly with an eye toward making trustee areas more compact and giving the boundaries straighter lines. The deviation for NDC 102 is 5.89 percent and for NDC 103 is 2.83 percent.
Leoni also said there's no requirement that the board choose another map with the lowest possible difference between its trustee areas.
"Low is good, but if you have other reasons to prefer a map, you shouldn't pick the lowest just because it's the lowest. There's a lot of other considerations," Leoni said.
Trustee Chris Cruz-Boone said that she prefers NDC 101, because it keeps Area 3, which she represents, a low-income district. The other two maps put homes from Westchester into that area.
"You start moving million-dollar houses and very wealthy folks into what is right now a primarily low-income district, which I asked you not to do," she said.
She said regardless of whether she represents that area, it's important not to dilute the voting power of the low-income groups in her area.
Trustee Shannon Zimmerman, who represents Area 5, noted that NDC 102 moves her out of her area into Cruz-Boone's.
"The instructions to the demographer were not to do that, so I apologize to you," Leoni said. "You have every reason to make sure that all legalities were met and to consider your incumbency."
Leoni offered to have the demographer tinker with the map to push Zimmerman back into her area, but the trustees all agreed to nix that proposal. That leaves the public to consider two options from the demographer that have been published on BCSD's website with accompanying demographic data: NDC 101 and NDC 103.
The publicly submitted map from the Equity Maps Coalition, which drastically redraws the districts and pushes many incumbents out, is also included for the public to consider. However, Leoni said that it is not legally an option for the board because the deviation between its areas is 14.05 percent. The demographer opted not to fix the discrepancies between areas.
"We don't know what is in the minds of this particular group, so we didn't want to go tinkering with their map," Leoni said.
Luque said that the Equity Maps Coalition plans to offer an updated map at the upcoming meeting in January.
The group has offered alternative maps at other Kern County local agencies, including the county itself and the Kern High School District, but its suggestions have not been considered.
Emma Gallegos can be reached at 661-395-7394.
Source link