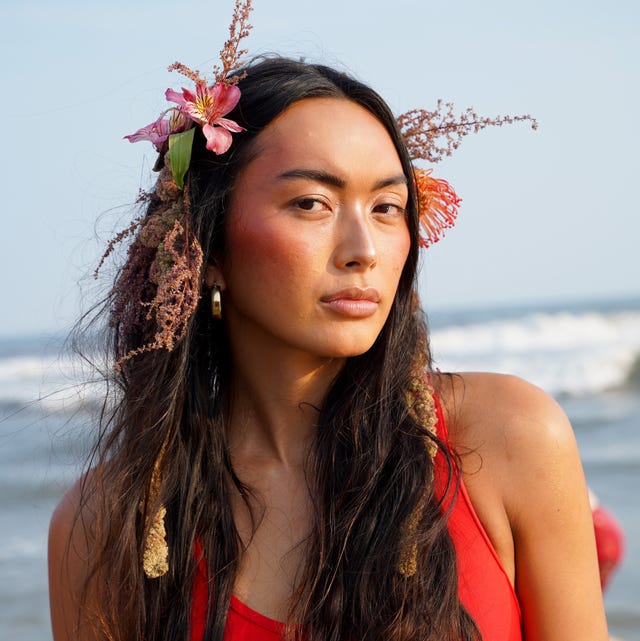 Sean ZanniGetty Images
Achieving a streak-free, natural-looking glow at home doesn't sound like the easiest beauty ritual to DIY–especially if you're not an expert. Fortunately, self-tanning drops make it easier than ever to safely give skin a hint of tint any time of year—even in the dead of winter.
Makeup artist Douglas Ortero tells Elle.com that self-tanning drops are often used to add warmth to the skin. There are both full-on tinted versions the deliver instant color or, as Ortero recommends, colorless self-tanning drops for a gradual glow. Regardless of which formula you choose, keep in mind that the more drops you use, the deeper your tan will be.According to makeup artist Jenny Patinkin, many sunless tanners use DHA (AKA dihydroxyacetone). This active ingredient darkens the top layer of skin, "specifically the dead skin cells,"–which is why exfoliation is crucial prior to application. (TL;DR: The fewer dead skin cells you have, the longer your tan will last.) She also says that it's best to avoid having any oils on the skin, which can create a barrier. Put simply, if your drops are formulated with oils, "any other oils on your skin could also end up giving you a smeary application." Makeup artist Melissa Hurkman also suggests refraining from retinol-based products starting from the day of application up until "around two days after," since they can "sometimes remove any self-tanning drops in patches."
Getting self-tanning drops onto your skin is easier than you may think. Simply mix in a few drops with your foundation, body oil, or moisturizer, et voila. For an extra punch of color on the face, Hurkman likes to start with moisturizer. After waiting around two minutes for the moisturizer to soak in, she applies about five drops to the palm of her hands before massaging it evenly along the face, neck, and jawline. "This technique, in my opinion, gives off the most amount of color," Hurkman tells Elle. Just be sure to wash your hands with soap and water "immediately after" to avoid accidental streaks and lines. And, on that note, Patinkin recommends using a brush to apply the product in thin, delicate skin areas such as the neck to prevent patchiness.
Ahead, a few of the best self-tanning drops to incorporate into your beauty routine for a quick and easy glow-up.
Advertisement – Continue Reading Below
1
Sublime Bronze Self-Tanning Facial Drops
These L'Oréal Paris Sublime Bronze Self-Tanning Facial Drops boast a non-sticky formula that's fragrance-free and safe for all skin types. It's even spiked with moisture-replenishing hyaluronic acid. Depending on how bronzed you want to look, use anywhere from five to ten drops.
2
D-Bronzi Anti-Pollution Bronzing Drops
Makeup artist Cara Lovello recommends mixing Drunk Elephant's D-Bronzi Anti-Pollution Bronzing Drops into your favorite moisturizer. According to Patinkin, "Moisturizer helps you to glide the product around for an even application, and then when the water in it evaporates, the self-tanner will activate evenly." It's also worth noting for folks with sensitive skin that these drops are fragrance-free. 
3
Face + Body Drops
The Tanologist Face + Body Drops feature a non-comedogenic formula that won't clog pores. It's also enriched with nourishing ingredients like moisturizing aloe vera and glycerin. The tint comes in three shades: Light, Medium, and Dark to suit a range of skin tones. 
4
Self Tanning Drops
Patinkin reaches for Isle of Paradise's Self Tanning Drops for a natural-looking glow, which comes in three tint levels: Light, Medium, and Dark. "If you start out conservatively with just one to two drops, it won't look unnatural, even if you use a shade that's too dark for your skin," she explains. 
5
Glow Drops
Use Dr. Barbara Sturm's Glow Drops to quickly—and effortlessly— brighten your complexion. The product's colorless, fragrance-free formulation is ideal for adding warmth to the skin, sans any makeup. Plus, the drops can also double as skincare since they're infused with conditioning ingredients like antioxidant- and fatty acid-rich purslane which protects skin from environmental stress.
6
The Body Illuminating Self-Tan Drops
These Tan-Luxe The Body Illuminating Self-Tan Drops offer a buildable formula that's incredibly user-friendly. "The color develops very gradually, so you have a lot of control over how much color you want to build," Patinkin explains. The makeup artist also notes that the drops "smells better than any other self-tanning products I've tried." Ingredient highlights include free-radical-fighting raspberry seed oil and soothing aloe vera. Choose from two shades, Light/Medium or Medium/Dark. 
7
Pure Self Tanning Drops
8
No 12 Bronzing Face Drops
Hurkman calls these +Lux Unfiltered No 12 Bronzing Face Drops "hands down my favorite face tanning drops." According to the makeup artist, the colorless tint is suitable for all skin tones. If you prefer lightweight coverage, simply skip the foundation. Instead, Hurkman likes to apply the drops followed by some concealer and blush. 
9
Australian Glow Hydrating Tanning Drops
Apply Australian Glow's Hydrating Tan Drops for an effortless all-over radiance. The transfer-free, fast-drying formula makes application a breeze. Meanwhile, the liquid is also laced with skin-protecting goji berries and Kakadu plum and comes in a Medium or Dark option. 
10
James Read H2O Tan Drops Body (1.52 fl. oz.)
"The James Read H2O Tan Drops are great if you have dry skin because it's water-based," Patinkin tells Elle.com. The fragrance-free formula, which is suitable for all skin tones, is enriched with anti-inflammatory rose water, calming aloe vera, and hyaluronic acid, which the makeup artist calls out for its skin-plumping effect. 
This content is created and maintained by a third party, and imported onto this page to help users provide their email addresses. You may be able to find more information about this and similar content at piano.io
Advertisement – Continue Reading Below