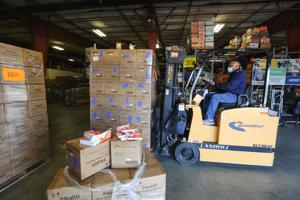 At-home COVID-19 tests from the state began to make their way into the homes of Kern County students Thursday — and not a moment too soon for parents and educators concerned about the rapidly spreading omicron variant.
The moment Endee Grijalva received word from her daughter's school, Eissler Elementary, she rushed to pick up a testing kit. Grijalva regularly tests her children who have asthma for COVID-19, but that's been harder lately.
Surging case rates locally — Kern Public Health announced 896 new COVID cases Thursday — have been accompanied by long testing lines. Before Christmas, Grijalva waited two hours at Kaiser Permanente. Recently, the wait was so long she gave up.
The rapid tests are filling an urgent need: Grijalva wants her kids in school, but she wants them to be safe with COVID rates rising.
"They're back in person, they have to be (tested)," she said. "It's spreading like wildfire."
The Kern County Superintendent of Schools received approximately 195,000 testing kits Monday — about one for each public school student in the county. Gov. Gavin Newsom announced a plan Dec. 22 to send the kits with the goal of being "tested as they return to school from winter break."
That wasn't possible for most Bakersfield schools. But on Thursday, many schools were getting them to students — some through parent pick-up and others by sending it home with students.
The Kern High School District has distributed the tests to its schools, and the district is leaving it up to each school to figure out how best to get the tests to students.
Some schools in outlying communities that start the semester later are aiming to test students before they return to the classroom.
On Wednesday night, schools in the Delano Union School District sent messages to families strongly encouraging them to consider enrolling in remote learning — or testing them before they return to in-person school, as an alternative. The district's winter break ends Jan. 10.
"DUSD has put multiple measures in place to keep students and staff healthy and safe; however, the safest place for your child is at home, and we highly recommend that you consider remote learning as an option," read the statement.
The letters also stated that families who opted for in-person learning would be required to administer a rapid COVID test and report the results before returning. However, April Gregerson, the district's assistant superintendent of instructional programs, said that testing is "not mandated, it's highly encouraged."
The district made the decision to promote its remote academy and testing based on projections that Kern County will see a surge of COVID cases that peaks in March. It was the district's answer to a tough question local schools are facing.
Gregerson framed it this way: "How can we expect to keep the schools open and thriving?"
The schools that are already open are beginning to see signs that this semester could be off to a rocky start.
Before the at-home testing kits arrived, Rosedale Union School District offered all-day drive-thru testing clinics for students and staff returning from holiday, according to Superintendent Sue Lemon.
Normally, the district has about 25 takers; but on Monday, it was over 50; and on Tuesday, it was 88. Typically, there will be one or two positives, but she said there were 15 on Monday and 24 on Tuesday.
"I'm sad," Lemon said. "I was hopeful for the new year."
However, Lemon said she's glad the district is able to provide a service that allows the school community to skip long urgent care lines. She believes the kits will be helpful, too.
"We're doing our best to keep kids in school," she said.
The district's K-8 students were sent home with a kit in their backpacks, and the district asked parents to test on Thursday night. If the results are negative, parents are asked to test again Sunday.
Grijalva has children who are students in the Kern High School District and she appreciated the clear instructions she received. The district offered a video that shows how to properly conduct a rapid test, as well as a QR code for families to share their results with the local health department.
Diane Baeza, whose children attend Downtown Elementary, wished that there had been more guidance from her school. She felt comfortable figuring out the tests herself, but she's concerned about whether all families will understand the directions well enough to perform the test correctly.
Everything about the fact that the testing happens at home makes her uneasy, she said. She wonders whether the tests will get used promptly, or if parents will keep their children home when they receive a positive result.
"Not everyone is as compliant as we like," Baeza said. "Not everyone wears a mask or is vaccinated."
But Baeza is glad to have the tests for her children, especially with the price of rapid testing rising. And she believes the tests send an important signal.
"We're in a different stage of health concerns with the variant," she said.
Parents looking for information can reach out to their child's school district for information about testing kits and school reporting requirements. For more information about how to conduct a rapid test, visit https://bit.ly/34tAqOV. Student results can be reported to public health at https://my.primary.health/l/caschools. 
You can reach Emma Gallegos at 661-395-7394. 
Source link