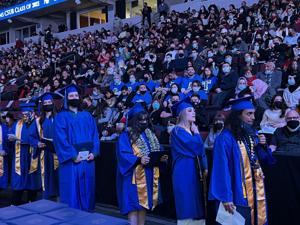 One of Cal State Bakersfield's newer traditions — fall commencement — returned after taking a hiatus during the pandemic. More than 700 students crossed the stage Thursday night at Mechanics Bank Arena.
The 2021 commencement event was a celebration across all of the university's schools: 1,192 baccalaureate degrees, 217 master's degrees and four doctoral degrees were awarded.
In her commencement address, CSUB President Lynnette Zelezny called attention to the 104 students who graduated in less than four years — a record number.
Zelezny attributes that increase to students who are arriving at school with credits under their belts thanks to dual-enrollment programs. But she said some students also manage to finish their degrees through summer school.
One was Jaidyn Connor, who is graduating with a bachelor's degree in business administration at just 17 years old.
Commencement is full of rituals and one of Zelezny's favorites is when she asks students who are the first in their families to graduate from college to stand up. This year, as it is every year, it was a "tsunami," as she described it, that brings hearty cheers.
"It brings a lot of pride in the heart, not just to the university family but to the community," she said.
Crossing the stage with a diploma represents the last leg in a long journey for many students.
Jamilla Cook said that her daughter Brittany Cook had attended schools in Alaska and California before graduating from CSUB's Antelope Valley campus.
"It's been 10 years in the making," said Jamilla Cook.
Family had flown in from Alaska and braved the Tehachapi Pass on Thursday to see her receive a diploma.
Joseluis Macias thinks back to the days when his daughter Mercedes Macias took the bus from Tehachapi to her undergraduate classes — all while balancing work as a union organizer.
"She's always participated in social issues ever since she was in high school," the elder Macias said.
On Thursday, she received her master's degree in public administration, all while balancing the demands of a family and working for the Sierra Club.
The pandemic threw a wrench in the best-laid plans of students.
Bre Payne said she knew going back to school with children wouldn't be easy, but she didn't expect to be doing her studies from home, while homeschooling her 7-year-old and taking care of a toddler. She learned to see the bright side: She was spending less time on the road driving from Taft, but it wasn't easy.
"It was chaotic," she said. "We had to have discipline and stay focused."
Payne credits faculty for being understanding as she worked on her bachelor's degree in biology and helping her get to the next leg of the journey. Payne is talking to recruiters about starting her master's degree.
CSUB graduates don't tend to waste much time in starting their schooling or career after graduation.
Cadin Brooks, graduating with a bachelor's degree in criminal justice, planned to start working for Kern County Probation on Saturday.
Zelezny told students to dedicate themselves to a cause outside of themselves. Representation was important for Michelle Muro, Basma Almorisi and Cristal Camacho, who graduated with degrees in the Child, Adolescent, and Family Studies Program.
"We're here to represent the diversity of Bakersfield," said Almorisi.
Muro and Almorisi had created a children's book for their senior seminar that featured students of different races and nationalities and abilities. Their next stop: getting a teaching credential. In Muro's case, she planned to go straight to the classroom.
The most poignant moment of the night was when Sajid Adnan and his son Mohammad Adnan received a diploma on behalf of Mehnaz Gull Adnan, who died Nov. 14. She had returned to school at her family's urging.
"Her family, and all of us here, are very proud of all her accomplishments and perseverance it took get here," Zelezny said.
You can reach Emma Gallegos at 661-395-7394. 
Source link