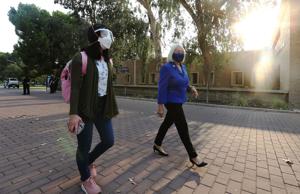 It's been nearly two months since the deadline passed for the California State University COVID-19 vaccine requirement, and implementation has been a months-long effort by Cal State Bakersfield.
So far, nearly 100 percent of employees and 91 percent of students have shown proof of being fully vaccinated, or they have applied for a religious, medical or administrative exemption, which is an option for those who don't come on campus, according to university data.
The announcement of the requirement came in July. Initially, the effort to prepare the campus came in the form of emails and information online, according to Kristen Beall Watson, CSUB President Lynnette Zelezny's chief of staff. As the deadline crept closer, signs went up on campus and text messages were sent.
CSUB offered opportunities for vaccination on campus. CSUB's Associated Students Inc. pressed the university to continue offering them and hosted giveaways to encourage students to get vaccinated. The group also addressed myths about the vaccine in its outreach efforts online, according to ASI President Stephanie Magaña.
The deadline for students was Sept. 30, but Nov. 8 is when many took notice: The university placed a hold on students' records preventing them from registering for next semester.
More recently, the university began a phone bank to answer questions and reach out to those who haven't yet submitted their vaccine card or exemption, Watson said. They've prioritized seniors to make sure they're on track to graduate.
Watson said the university is proud of its progress.
"We represent what a high-quality vaccination process could look like for the region," Watson said. "The numbers are speaking for themselves."
The overall rate for 11,157 students enrolled at CSUB who have had their vaccine cards verified is 72.4 percent. That includes students from the main campus and Antelope Valley. The rate for 3,850 students who are in face-to-face or flex classes is higher: 87.3 percent.
That's lower than the vaccination rate in the statewide CSU system. For students attending in-person campus and program activities, the most recent rate was 95 percent, according to Michael Uhlenkamp, a spokesman with the chancellor's office.
However, it's considerably higher than the vaccination rate for Kern County residents between 18 and 49 years old, 49.4 percent, and the rate for students who aren't enrolled in face-to-face classes in that age group, 64.5 percent.
For both staff and faculty, the vaccination rate for CSUB is 89.4 percent. The statewide CSU numbers are 96 percent.
Watson lauded the chancellor's office for leading the system, but recognizing that each one of the campuses is embedded in different kinds of communities. The office gave broad guidelines and dates, but left implementation up to each campus.
CSUB's process, Watson said, upheld "people's ability to make choices."
Those who were not taking any face-to-face classes were most likely to choose an administrative exemption: 17 percent of students opted for it.
But the university cautioned students that this exemption wasn't a good option for students who would want to study at the library, use the gym, go to the bookstore or go to athletic events.
The university can even see if someone with an administrative exemption has logged onto the campus Wi-Fi, Watson said. The idea isn't to be "Big Brother," she said, but to keep the campus safe.
Though she is taking courses online, Alondra Perez, a senior studying criminal justice, wanted to be able to come on campus and study at the library. She isn't vaccinated and applied for a religious exemption. Among CSUB employees and students, 4.4 percent applied for religious exemptions.
Those who receive a religious or medical exemption like Perez are asked to test weekly. To meet the demand of testing that came with the requirement, the university began offering testing four days a week. It's saliva-based PCR tests, because many with exemptions prefer it to nasal swabbing, Watson said.
Initially, Perez ignored the emails asking her to test, but then she got worried a hold might be put on her profile. She thought it was "ridiculous" to be asked to test weekly. But she's now used to the routine and glad there was an alternative to getting the COVID-19 vaccine.
"In the beginning, I wasn't for it — but now it's whatever," she said. "Now, my perspective has changed. It is a fair trade-off."
Students who filed for the religious exemption found the process simple and straightforward.
"I was pretty shocked, I thought it would be an issue," said Nicole Sullivan, a liberal studies major.
Watson said the university didn't want to be in the position of saying whether medical or religious exemptions were valid.
"We decided early on we didn't want to sit in judgment of the exemption process," Watson said.
The vaccine requirement is just one of many COVID safety requirements on campus, including a masking requirement and a daily COVID screening.
Watson said at different events, employees may check in to see that everyone has completed their screening and received a green check mark. Zelezny will periodically make sure everyone has done theirs. But it's not something that is happening at the entrances of classrooms as a matter of protocol.
"We don't want faculty to be enforcers," Watson said.
She said the campus' rate of cases is proof the requirements are working. To date, there have been 103 cases reported at CSUB over the course of the pandemic, according to CSU data.
You can reach Emma Gallegos at 661-395-7394. 
Source link