With a pricetag of $3000, the e-bike is expensive, and most people are probably going to be just as happy with one that's much less expensive, but it sure is nice. It has a 250w electric motor that can let you cruise comfortably uphill without killing your legs, or pull you along at 25 km/h, depending on the level you set it at. It charges in four hours, has a range of around 80 km, comes with an integrated light and a rack that holds 40 kg.
Zoomo also claims it's virtually unstealable, and I didn't go to the trouble of testing that claim. A lock kicks in when you try to move or ride the bike without swiping the key first, meaning you'd have to pick it up to get away with it. It also has a constant GPS connection, and if you pay for a subscription Zoomo will send goons (or "recovery agents") to recover it should it go missing. The company's working on an app, so you can see the location yourself.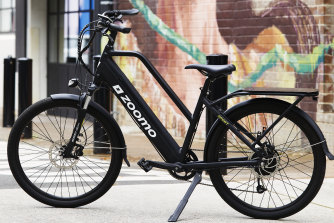 Of course sometimes it's just too hot to get outdoors, and that's where this final gadget comes in. The $180 Tado Smart AC Control V3+ is a small and inconspicuous box that sits as a middleman between your internet connection and virtually any air conditioner, bringing your old wall-mounted AC unit into the 21st century.
You just plug the Tado into power, use the app to connect it to Wi-Fi and teach it what kind of air conditioner you have, and then stick it somewhere it has line of sight to the AC. When you make changes over your network (through the app, or an automation integration like IFFT, or through Alexa or the Google Assistant), the Tado sends out an IR signal, just like an old-school AC remote but without the confusing buttons and awful screens those tend to have.
The benefit isn't solely that you can yell out loud what temperature you want it to be instead of using the remote, though. The Tado measures temperature and humidity, so you can set it to turn on or off at certain thresholds, it lets you manage your AC even when you're not home, and with some setup, you can even have it turn off when you leave home and on again when you come back.
Get news and reviews on technology, gadgets and gaming in our Technology newsletter every Friday. Sign up here.
Source link