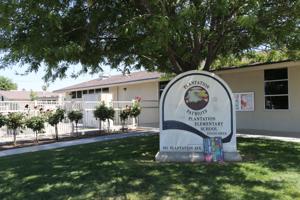 The board of Greenfield Union School District voted unanimously Wednesday morning to change the name of Plantation Elementary School to Prosperity Elementary School.
Students who attend the school will be known as the Prosperity Elementary School Eagles, according to Superintendent Ramón Hendrix.
In May, trustees passed a resolution noting that the school's name is a "reminder of social injustices" and that the district "recognizes the continuing impact of perceived symbols of intolerance."
A committee that included students, staff, parents and community members fielded suggestions for what the school in south Bakersfield should be called instead. It received 60 names. The list was whittled down to two: Prosperity and Liberty.
The board endorsed a name they believed would stand out.
"They thought it was a very unique name," Hendrix said. "There are no other schools in California that are named Prosperity School."
The committee believed that the name offers a positive outlook for the students and families of the school, Hendrix said.
The board is ahead of schedule; it wasn't expected to pick a name until January or February.
The next step is rebranding the school. The district had already phased out buying anything with the name "Plantation" on it. Now it can begin ordering signs, T-shirts and other memorabilia with the name Prosperity Elementary School, Hendrix said.
Once that phase is complete, the district will host a grand opening.
"We'll invite the community to celebrate," he said.
The district doesn't have jurisdiction over the name of the street the school is located on: Plantation Avenue. But Hendrix said the district will reach out to the city to work on changing that name, as well.
You can reach Emma Gallegos at 661-395-7394. 
Source link