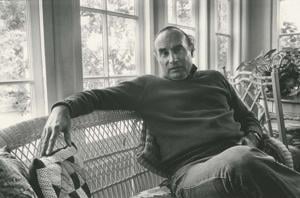 Jack Hernandez, retired Bakersfield College professor and administrator, local champion of the humanities and prolific writer, died Wednesday at the age of 84.
Hernandez began his career as a philosophy professor at Bakersfield College in 1961, and he retired in 2017 as the founding director of the Norman Levan Center for the Humanities.
But the most enduring image of Hernandez in the community is that of a writer. Up until his death, he was a regular fixture at Dagny's, where he would sit by a window composing poetry or writing, including Community Voices submissions for The Californian.
"He liked to write in public, because he liked to observe people," said his girlfriend, Sally Hill.
She said Hernandez died of a heart attack Wednesday. She and close friends marveled that even the day before he died, he wrote five poems from his hospital bed.
At the Kern Community College District's Thursday meeting, Chancellor Sonya Christian touted Hernandez's "monumental legacy in our district and in this community and his infectious passion for literature and the humanities inspired generations of students."
Christian noted that Hernandez was distinguished as both a professor of philosophy and an administrator in his nearly five decades with the college. He earned the Shirley Trembley Distinguished Teaching Award for his advocacy on behalf of students in 1996. He was a dean of students, vice chancellor and, in 2007, he became the very first director of the Norman Levan Center for the Humanities.
She also said Hernandez was willing to share his vulnerability through his craft.
"In his own art, Jack was always willing to be vulnerable through the poetry and prose that he wrote, expressing some of the sadder moments in his life in the hope that it could provide solace to other people that might share a similar pain," Christian said.
Writing essays and poems is how Hernandez would deal with tough issues in his life, according to his daughter, Laura Ehlers. When his son died by suicide at the age of 27, he wrote a one-act play called "Bridges" from the experience that premiered at Cal State Bakersfield. It featured a character contemplating jumping from a bridge.
Hernandez would often put his way with words to work in lighter situations, too. He was the go-to man when friends and family needed a toast or emcee for an event. Ehlers said that he became a kind of patriarch for the family, especially in later years. He would always have a witty phrase ready to go at functions.
Hernandez was also the emcee for the annual banquet for BC's own bowling league. He was a regular in the group of faculty, staff and administrators who gathered on Thursday nights. The league was a tight-knit "family within a family," said BC professor Susan Pinza, who met Hernandez through the league.
At the banquet, Hernandez would read poems satirizing campus events. He and his bowling partner would dress up in costumes. The bowlers planned on toasting his memory at Temblor on Thursday, one of many celebrations of his life already in the works.
"As a philosopher, he believed in leading and living a good life where you use your intellect, you care about others, you're kind to them, you try to move the knowledge of the world forward and do it with humor," Pinza said. "He always had a little twinkle in his eye."
His friends and colleagues said that Hernandez deeply believed in doing his best to lead a good life and helping others do it. They said he lived simply and frugally and gave often to charity.
Fellow BC professor Bruce Meier knew Hernandez for more than 50 years but grew close with Hernandez in retirement. He described him as a "Renaissance man" who he greatly admired for his friendship.
"He wasn't a jack-of-all-trades, he was a master of many trades," he said.
Hill said Hernandez didn't require much. Hernandez only found out shortly before he died that he had heart problems. He told her he could adjust.
"If he could still read and write and watch sports on TV, he would be a happy camper," she said.
Hernandez was also a huge sports fan. He was a part of a crew of BC employees who would head up north for the Big Game between Stanford and UC Berkeley each year. Hernandez was a Michigan fan, but cheered Cal where his son had attended.
Ehlers found out when her father was 73 that he had a secret talent: He was a fantastic ice skater and hockey player. Growing up in Detroit, he had learned how to play on frozen ponds. She hadn't realized her dad was so passionate about the sport that he had at one point coached a middle school team.
Originally, he was set on becoming a preacher, Ehlers said. He was going to attend Bob Jones University, but he attended another Christian school, Wheaton College.
"There he was exposed to great literature and philosophy," Ehlers said. "I think he saw the constraints of religion on people's thinking."
Hernandez had a deep reverence for Christianity, but she would describe him as agnostic.
"Deep down, I don't think he had a true belief system," she said. "It was a bit of a conflict. He would have loved to have had faith but wouldn't square that with what he observed."
Recently, Hernandez did meditate on his afterlife in a way in a Community Voices column titled "Our Lives, Our Stories." Christian read an excerpt at the KCCD meeting Thursday about the "afterlife of our stories remembered by those who have known us for many years."
"My life lives on in them, especially in my daughter and my sister. And they will tell stories that I do not know, will never know. He did this, he did that, can you believe it! That is my afterlife here on Earth," he wrote. "That is our afterlife here on Earth."
You can reach Emma Gallegos at 661-395-7394. 
Source link