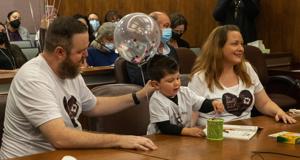 The festive spirit of National Adoption Day once again returned to Juvenile Court on Friday.
Last year, proceedings were streamed on Zoom for extended family, because of COVID-19 restrictions. But entire broods were once again welcomed into chambers decorated with balloons and teddy bears for a celebratory day when 34 children in Kern County were officially adopted.
Families came dressed up. Little girls ran around in tulle dresses while others wore matching T-shirts bearing the name that would soon knit them together.
Proceedings in Juvenile Court are typically closed to the public. National Adoption Day aims to celebrate and publicize one of the happiest moments that happen inside its walls.
Judge Susan Gill, supervising judge of the Juvenile Court, finalized the adoption of 2-year-old Ian Smith. She asked his soon-to-be parents Joyce and Matthew Smith if they were ready.
"I've been ready for two years!" answered Joyce.
Ian batted a balloon around playfully as Joyce and Matthew each swore to raise him as their own child.
They were asked if they would take responsibility for Ian.
"Yes, praise God!" Joyce answered.
Approximately 2,000 children are in foster care in Kern County, according to Jana Slagle, who serves as National Adoption Day Project Manager at the Kern County Department of Human Services. The department is always looking for parents like the Smiths to step up and commit to children for the long haul.
Stephanie and Ron Antongiovanni began to foster children in 2005, when their youngest biological child went off to college. Stephanie had a friend whose friend was fostering children, and she saw firsthand how some children in the system were treated. The couple decided they had plenty of room in their empty nest.
"You don't have to be blood to be family," Stephanie said.
The couple has fostered 49 children. Friday marked the adoption of their sixth child, Angelo, 9. He wore a mask with the phrase "Peace out, foster care."
Nicole and Sean Twomey decided to foster to adopt when they couldn't have children. On Friday, they finalized the process of adopting Addie, a 2-year-old who they had begun fostering when she was just 1 month old and out of the neonatal intensive care unit.
The process took a long time, and it wasn't easy, but Nicole said that the county workers assigned to the case were helpful. She made friends in the fostering community along the way, too.
Now that Addie's adoption process is complete, she's interested in doing it all over again.
"It was tough, but it was worth it," she said.
Sometimes adoptions happen between family members or friends. That was the case for the Smiths. The couple had grown children from separate relationships, but they wanted a child together. That didn't seem to be in the cards, Joyce said.
They weren't looking to adopt but needed a foster family for Ian. Joyce and Matthew volunteered from birth, even naming him.
His biological mother knew the couple would be there for him, Joyce said. This arrangement allows Ian the chance to grow up with ties to his immediate biological family, too, Joyce said.
Kern County's 18th celebration of National Adoption Day isn't solely about the children being adopted inside the courtroom. Many adults who had been adopted shared their stories, too. Joyce was one of them.
So were Judge John Brownlee and Judge Wendy Avila, who shared their own stories of happy childhoods with parents. Tracey Reynolds, who works for state Sen. Shannon Grove, R-Bakersfield, also had a happy adoption story.
Avila said she looks into the faces of parents and sees love and hope and dreams.
"They knew all you need to build a family is love," she said.
You can reach Emma Gallegos at 661-395-7394. 
Source link