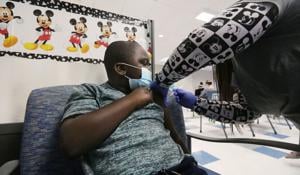 It hasn't even been two weeks since the pediatric version of the Pfizer vaccine has been rolled out, but it's already apparent it's going slower in Kern County than other parts of the state.
State vaccination progress shows that Kern County has some of the lowest vaccination rates so far: 1.2 percent of 5 to 11 year olds have received a first dose of the vaccine. That's slightly below Fresno's 1.8 percent or Los Angeles' 2.9 percent. However, it's much lower than Bay Area communities like Marin County at 11.3 percent or San Francisco at 9.7 percent.
More than 10,000 pediatric doses of the Pfizer vaccine have been shipped to Kern County since the vaccine for 5- to 11-years-olds was approved, according to Kern Public Health Services spokeswoman Michelle Corson.
That's about one dose out of 10 for all of the 99,526 children who are newly eligible for the vaccine in the county. More is expected in coming weeks.
The first doses were available to Kern County on Wednesday, Nov. 3, after it was recommended by the CDC. Between that day and Nov. 6, 593 doses were given out in this age group, according to Corson. The county administered 291 doses between Nov. 5 and Nov. 10 at the Kern County Fairgrounds.
The pediatric dose of Pfizer given emergency use authorization by the FDA is smaller and requires a different type of vial and needle. That means parents need to check in with a location or the Kern County Public Health Department's map of vaccination providers to make sure the right dose is available before they show up.
In Kern County, many parents who have been interested in getting their children vaccinated have been making appointments at pharmacies or with their pediatrician.
"My son got his done at Walgreens last Sunday — super easy!" said Bakersfield resident Angela Tamargo.
Getting a pediatrician appointment to get her 10-year-old vaccinated was no problem for Lauren Gutierrez.
But some outlying communities, such as the Kern River Valley, do not have a location that offers the pediatric dose.
Corson said the county is continuing to add additional vaccination partners and she encourages residents to continually check the vaccination map at kernpublichealth.com. She adds that the county has four mobile vaccination providers and is working on adding a fifth.
One place that few children are getting vaccinated just yet in the first week of the rollout are schools, though that may soon change.
Kern Medical has been working with the Kern High School District to offer pop-up clinics at high schools to children above age 12 who are eligible for a regular dose of Pfizer. Kern Medical informed the district that it is planning to administer pediatric doses as well, according to district spokeswoman Erin Briscoe-Clarke.
That may be one way the Kern River Valley gets its doses. Kernville Union School District Superintendent Steven Martinez said Kern Medical is hosting a vaccine clinic at Kern Valley High School this Thursday.
"We are checking to see if they will bring the child vaccine when they come," he wrote in an email.
The Bakersfield City School District said it plans to work with the county to offer vaccination clinics, but offered few details.
The Kern County Superintendent of Schools has been working with the county to offer vaccine clinics through its alternative education program at the Blanton Center, according to spokesman Robert Meszaros. At last Tuesday's clinic, county staff wasn't yet trained to provide the pediatric dose, but it will be ready at its clinic on Nov. 30. 
Children cannot receive a COVID-19 vaccination without the permission of a parent or guardian, according to state law. The sole exception are those who are emancipated minors. Meszaros said there has been a great deal of "misinformation" about this fact.
"I have not seen any pressure within our school systems around COVID-19 vaccinations," he wrote. "The focus has been on education and providing a convenient and trusted place to be vaccinated if parents choose that for their students."
Neither the Panama-Buena Vista Union nor Rosedale Union school districts have immediate plans to offer vaccination clinics at their schools. Jennifer Irvin, assistant superintendent of educational services for PBVUSD, left open the possibility for the future.
Its school board meetings have received many public comments not only opposing vaccine mandates for children but opposing vaccines for anyone. Public health experts and the FDA say that the vaccine is safe and effective against COVID-19.
Some school districts across California rolled out pediatric vaccination clinics almost immediately. Los Angeles Unified School District sent out mobile vaccination clinics last week and planned to offer the vaccine in its wellness clinics on Monday.
One place that serves kids started offering clinics right away: the Boys & Girls Clubs of Kern County. On Monday, it kicked off a partnership with Bakersfield College's Student Health & Wellness Center. It plans to offer vaccines at its locations in east Bakersfield, Lamont and eventually its southwest Bakersfield location.
Safety is number one for the children it serves at its locations, said Maggie Cushine, director of grants management and program facilitation.
"It's a comforting place, it's a trusting place," she said. "We want to be out here helping our kids."
BC's Student Health & Wellness Center got involved as a part of an effort to do outreach into the community, according to Dr. Charles Collom, nurse practitioner for the Student Health & Wellness Center. The clinic at the clubs offers a chance for kids and their parents to get their vaccinations or boosters.
"If the demand is there, BC will be there to meet it," said Collom.
You can reach Emma Gallegos at 661-395-7394. 
Source link