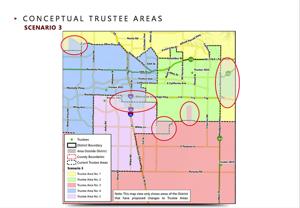 The Kern High School District's governing board unanimously approved a new map that made relatively minor changes to its current trustee boundary lines at its board meeting Monday night.
After the 2020 Census, every governing body from Congress to local school boards must reconsider the boundaries that determine how citizens elect its representatives. The KHSD board operated under the assumption that it had done most of the heavy lifting about three years ago when it heavily redrew trustee areas.
Trustee Cynthia Brakeman prefaced discussion of the final presentation and vote Monday with a statement: "Many of you will recall that our current trustee area boundaries were developed in an extensive, community-developed process in 2018."
The board considered but ultimately rejected a plea from the Kern County Equitable Maps Coalition. The group presented its own alternative trustee boundaries and asked the board to consider putting off a decision on the boundaries, since they are not due until Feb. 28, 2022. The group threatened the board with litigation.
Marguerite Leoni, a Bay Area-based attorney at the firm Nielsen Merksamer, walked the board through the areas that needed to be balanced because of changes in population.
Trustee Area 1, represented by Brakeman, deviates 9.2 percent above the average population of the five areas. Trustee Area 4, now represented by Janice Graves, is 5.2 percent under and Trustee Area 2, now represented by Jeff Flores, is 5 percent under.
The board approved a map titled Scenario 3, proposed by consultant Cooperative Strategies at its November meeting.
The new map moves the neighborhood around Evergreen School from Trustee Area 5, now represented by Bryan Batey, into Area 4. It adds the area east of Morning Drive between the 178 and 58 freeways to Area 2 from Area 1. It also adds an area just east of where White Lane and S. Union Avenue intersect to Area 3 from Area 5.
Boards are also tasked with ensuring that they do not dilute the voting power of racial or language minorities under both federal and state laws. Leoni advised the board to stick with a conservative approach after the process it went through in 2018.
"I would be reluctant to back away from that security," Leoni told trustees.
In 2018, the Dolores Huerta Foundation threatened to sue KHSD, charging that the board was gerrymandered in a way that diluted the Latino vote. At the time four of five seats were held by white Republican men. The areas were redrawn, particularly Area 3, which now includes outlying areas of Kern, including Arvin, Lamont and Shafter.
The 2018 map and Scenario 3 both preserve two districts that have Latino majorities, as well as Latino majorities who are Citizen Voting Age Population (CVAP): Area 2 and Area 3. The map presented by the Kern County Equitable Maps Coalition also adds a third seat with Area 5.
Lori Pesante, director of civic engagement and government relations for the Dolores Huerta Foundation, claims the KHSD trustee map currently "cracks" the Latino population residing in Area 5, just south of the 58 freeway and east of the 99 freeway. She said the map proposed by the DHF addresses this issue.
"To adopt a map inferior to that standard would be to invite a lawsuit," said Pesante.
Pastor Angelo Frazier spoke up against using race in this process. David Manriquez, the trustee for Area 3, which had been the subject of past battles, said that he agreed with Frazier.
"I represent Area 3, I don't represent color," he said.
Ashley De La Rosa said that representation affects students. As a 2014 Foothill graduate, the discrepancy between facilities at her school and Liberty High School left a deep impression on her and motivated her activism. Brakeman said trustees planned to address the discrepancy between high schools on the East Side and in Arvin.
Leoni said that she worried that the maps proposed by the Kern County Equitable Maps Coalition would create a new Latino seat but in doing so water down the power of the existing seats. She cautioned the board members that seats with slimmer majorities could lose their power in a year with low turnout.
"There's no guarantee they're effective," she said.
Board president Flores in casting his vote said that this was a factor. He said he didn't want to consider any map that could weaken the Latino majority seats.
You can reach Emma Gallegos at 661-395-7394. 
Source link