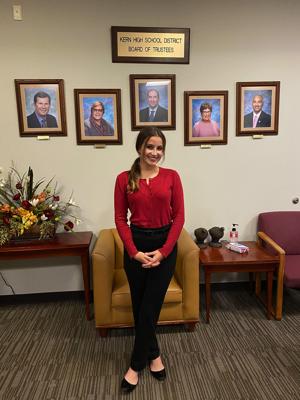 For the first time in its history, the Kern High School District trustees approved a position for a student trustee during Monday night's board meeting.
Ana Herron, a senior at Centennial High School, will take a seat on the dais at the next board meeting in January, representing the voice of the more than 40,000 students in the district. Her term will last through June 2022.
Herron's position is parallel but distinct from an elected representative. She will have a preferential vote, which means that her vote will be recorded but won't contribute to the tally. She is welcome into any committee or function a board member is with the exception of closed sessions.
Herron will meet with a Student Board Member Advisory Council that consists of students from every comprehensive high school and a representative of the alternative high schools.
"I want to advocate for our students and provide honest and meaningful conversations with the board," Herron said.
Herron said the group she met with is full of kind, active students with good hearts. They have discussed different ways to make sure that students are giving their feedback to their student representatives.
"She's able to work with adults really well and relate to them," said Salem Palmer, a Centennial High School graduate who advocated for the student representative position.
Many other high schools throughout the state and even Bakersfield College include a student representative on their boards. The effort to bring a student representative to KHSD specifically was the product of Centennial students participating in Project Citizen, which helps students identify community issues and seek ways to fix them.
The group found many students weren't aware of how decisions that affected them were considered. Attending board meetings has been eye-opening for Herron, too.
"I didn't know there was this kind of outlet for people to kind of be able to talk about their concerns and voice their concerns," Herron said.
Herron said her biggest strength is being able to listen to people from all walks and trying to understand where they come from, no matter their perspective.
"I'm hoping students feel that they can come and talk to me any time," she said.
Because it was the initial year of the new representative, principals helped to choose the new advisory council. Next year, school site representatives will be chosen in concert with student government elections. A committee selected by the superintendent chooses a student representative from among these site representatives.
It's a little too soon for Herron to say what is on the student agenda for the Kern High School District, but she promised more soon.
"We'll get to action at the next meeting," she said.
You can reach Emma Gallegos at 661-395-7394. 
Source link