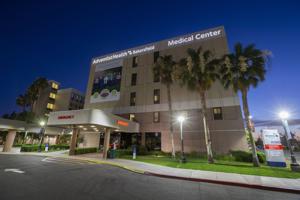 Fourteen members of the California National Guard started work in Bakersfield Monday as part of an effort to address hospital staffing shortages during the pandemic, raising the number of local medical centers now receiving such help to three and the total deployed in the city to 38.
A group composed mostly of medics trained all weekend at Adventist Health Bakersfield after arriving in town Friday. Adventist's local president said the National Guard members began treating people Monday with medical problems like COVID-19, broken arms, heart attacks and strokes.
"They are making a difference for our patients," President Daniel Wolcott said. He emphasized the hospital on Chester Avenue would have been able to provide care without the influx but that the newcomers will help Adventist work within its official capacity, adding, "We were happy and excited to have them come on."
Following National Guard deployments at local hospitals in January and February, the latest arrivals have come as the county's medical centers have struggled to keep up with local demand for medical care.
The Kern County Public Health Services Department said it asked the state for National Guard members after receiving requests from local hospitals experiencing "an unmanageable increase in patients." A department spokeswoman said the agency had been unable to find what it considered a sufficient number of staff locally and across the region. She added that the deployments are paid by the state.
Wolcott said Roseville-based Adventist did not make a request for National Guard members. But when the county offered, he said, his hospital figured additional personnel would help his staff cope with elevated patient volume at the hospital's emergency department.
The first hospital in Kern to receive help from the National Guard following last winter's COVID-19 surge was Mercy Southwest, on Sept. 13. It now has 14 National Guard members deployed to assist in emergency rooms and other departments throughout the hospital, owner Dignity Health said by email Monday.
Normally such deployments extend for just two weeks. County Public Health spokeswoman Michelle Corson said by email that period can be extended based on need.
Bakersfield Memorial Hospital, also owned by Dignity, brought on a team of National Guard members Sept. 20. Ten members of that deployment remained at the hospital Monday.
"We are tremendously grateful for the support of these dedicated caregivers, and for our own staff, who have remained committed to the health and safety of our communities throughout the pandemic," Dignity wrote.
The San Francisco-based health system noted the pandemic has exacerbated a statewide staffing shortage predating California's requirement that health-care workers be fully vaccinated against COVID-19 by the end of last month. It said it requested National Guard members to help at its hospitals in Bakersfield and Redding because of a surge in COVID-19 patients there. The company declined to say how long it expected the National Guard members to stay working in Bakersfield.
Medical capabilities of National Guard teams now deployed in Bakersfield vary, Corson's email said. The teams consist of nurses, paramedics and emergency medical technicians.
Last winter, she added, deployments helped with mobile COVID-19 testing and assisted with local hospitals. A total for that previous deployment was unavailable, but Adventist confirmed it hosted 20 National Guard members at its hospital on Chester.
Wolcott said he doesn't expect to request that National Guard members be stationed at Adventist's hospitals in Delano or Tehachapi.
He took the opportunity speaking with a reporter to thank the county, as well as the National Guard, and to remind people the pandemic "is not over."
"We want to encourage our community to continue to vaccinate," he said, "and especially be careful in indoor gatherings."
Source link