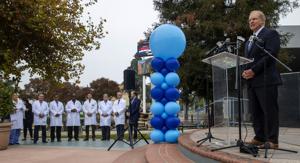 Under the banner of keeping more patients local instead of forcing them to travel long distances for medical care, Kern Medical and Adventist Health announced Tuesday they will soon combine efforts to recruit specialized physicians who would then serve both health systems.
The partnership, less formal than a merger or a joint venture, will focus initially on attracting gastroenterologists, urologists and neurosurgeons by playing up each organization's respective strengths — trauma care, teaching opportunities and a safety-net mission in the case of Kern Medical. Adventist Health, meanwhile is seen as offering prospective job candidates geographical breadth, managed-care contracts and high patient volume offering ample experience for young doctors.
Leaders from each health system gathered at noon in front of Mechanics Bank Arena and spoke of the arrangement as being transformative over the long term because of its potential to fill in important gaps in the spectrum of medical specialties available in Kern County.
"This will change the community. This will make everybody's lives in the community better," said Kern Medical's outgoing president and CEO Russell Judd, who called the deal one of the most impactful developments in his two decades of work in local health care. "Together we will elevate the community and the care that we provide."
In a limited sense, the arrangement joins two of Kern's leading hospital operators to the exclusion of a third, Dignity Health, in what has over the years become a tight competition for local market share.
Dignity did express moral support for the effort, however, saying by email after the event that improving access to medical care and enriching the health-care experience are priorities for all health-care providers in the county.
"Dignity Health Bakersfield supports partnerships that will strengthen our medical community's ability to improve health outcomes and enhance the wellness of the people we serve," it stated. "Building and nurturing meaningful relationships has long been a part of Dignity Health's mission."
Adventist's local president, Daniel Wolcott, said some details remain to be worked out before the partnership with Kern Medical takes effect Jan. 1. But in general, he explained, the proposal calls for Kern Medical to employ incoming specialists. Adventist would cover their employment costs only on days when those physicians work at the Roseville-based health system's patients at its hospitals in Bakersfield, Delano and Tehachapi, or any of its clinics or ambulatory care centers countywide.
Wolcott said his hope is that the initiative attracts a broader range of medical professionals than either organization can attract on its own. There's no intent to form a deeper or more significant economic partnership, he said, and it may take years before the arrangement realizes its full benefits.
Scott Thygerson, president of Kern Medical's hospital and clinic operations and Judd's successor come Dec. 1, said the local community won't necessarily notice any change at first. But behind the scenes, he said, the two health systems will be working closely together on recruitment efforts by playing up each organization's advantages in the eyes of prospective new hires.
He and Wolcott, giving a joint interview following the public announcement, noted that not all physicians want to be part of a small medical group or spend most of their time teaching, as can happen at Kern Medical. Some might prefer working part-time in Adventist's outpatient settings, they said.
The two hospital executives noted that, combined, Kern Medical and Adventist's three hospitals in the county employ more than 4,500 nurses and other caregivers, plus more than 1,000 doctors and physicians in training and more than 30 clinics or ambulatory care clinics.
Dr. Charles Liu, chairman of the neurosurgery department and USC's Keck School of Medicine, said during Tuesday's partnership announcement that it's better to keep people's medical care close to home. Otherwise, patient's families must endure a "real burden" to be close to their loved ones, he said.
Source link