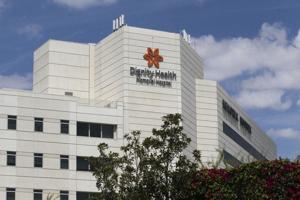 Memorial Hospital announced this week it will apply to become a teaching hospital serving up to 30 graduates per year from the Morehouse School of Medicine, a historically Black medical college in Atlanta, under an $8 million to $10 million initiative that could help address the southern Central Valley's physician shortage.
If its application is accepted by the Accreditation Council for Graduate Medical Education, Memorial's top administrator said Wednesday, the 385-bed medical center plans to offer multiyear residency or fellowship programs in the areas of internal medicine, surgery and obstetrics and gynecology.
President and CEO Ken Keller said the application process will be competitive and substantial investments will be needed just to support the hospital's bid. But if it succeeds, Memorial would become only the second teaching hospital in the county, next to Kern Medical, and one of perhaps three dozen in California — a significant boost to local efforts to bring in physicians who might want to settle in the area.
"One of our goals is to set it up such that a preponderance of those physicians, once they graduate (will stay) here in town," Keller said.
The announcement followed word last month of a partnership between Kern Medical and Adventist Health under which the two competitors of Memorial will work together to recruit specialized physicians who would then serve both partnering health systems.
Last year, Memorial's parent company announced a 10-year, $100 million agreement with Morehouse to address nationwide gaps in medical care by training more minority physicians. This week's news reflects the company's selection of Memorial as one of seven Dignity Health-owned hospitals that will be the first to apply for accreditation by the ACGME.
Aside from its value as a potential pipeline for future physicians working in Kern, the news improves prospects for minority doctors more reflective of the area's racial diversity.
"We know that, statistically and anecdotally, patients have better outcomes when treated by a clinician who comes from a similar background," Morehouse's president and CEO, Dr. Valerie Montgomery Rice, said in a news release. "Yet, in the medical field, there are far too few providers from underrepresented groups, and the impact that has on patient care is astounding."
Keller said Memorial's local sister hospitals, Mercy Downtown and Mercy Southwest, may become part of the arrangement with Morehouse by hosting physician rotations.
The plan is to set up classrooms and simulation labs where instructors would tutor Morehouse-trained physicians, he said. It would require investing in new administrative space along with new hiring and, possibly, cooperation with a developer that would build new housing for the incoming doctors in downtown or in northeast Bakersfield.
The physicians would be paid but not as much as regular staff physicians, Keller said, adding plans call for launching the program in summer 2023 or summer 2024.
Money for the residency or fellowship programs would come from a combination of sources, including Memorial, Dignity Health and Morehouse, Keller said. There may be a community fundraising program, as well, he added.
A spokeswoman for the California Hospital Association said residency programs often do persuade participating physicians to remain in the community where they completed their post-graduate training.
Kern Medical's chief medical officer, Dr. Glenn Goldis, noted there are different levels of hospital-based training programs, and not all of them qualify the medical center as a teaching hospital. But he said accreditation by the ACGME is considered the top standard.
He said Kern Medical accepts 130 students per year from two universities in the Caribbean, not including another 103 physician participants in the hospital's four UCLA-affiliated residency programs.
Goldis added that more than 30 percent of the physicians who train at Kern Medical end up staying in the local community.
Source link