Key events
The Liberal Dermocrats says the BCC report shows that Boris Johnson's Brexit deal "has been a disaster".
Business groups (like the Labour party) are still nervous about sounding anti-Brexit and that was apparent when Alex Veitch, director of policy and public affairs at the British Chambers of Commerce, was interviewed on Sky News this morning about the BCC's latest report. (See 9.36am.)
The report is damning in terms of what it says the impact of Brexit has been for firms that trade with the EU. (There is a section titled 'What businesses have told us in 2022 about using the TCA [the trade and cooperation agreement], and the responses include "disaster for our industry", "much more difficult to trade", "margins are being significantly squeezed", "economic disaster" and "biggest ever imposition of bureaucracy on business").
But in his Sky interview Veitch started by describing the TCA as a "fantastic building block" and a "great start". He said it was a big improvement on leaving the EU with no deal at all, which at one point in seemed possible.
Only at that point did Veitch say the deal could be a lot better. The report makes a series of detailed recommendations, which it divides into three categories: changes that could be negotiated within the next 12 months, under the terms of the TCA; medium-term issues, which would require new side agreements; and long-term issues which could be resolved in 2026, when the EU and the UK are due to conduct a full review of the TCA.
Veitch said that ultimately the BCC would like a "FTA 2.0", a new free trade agreement with the EU, which would "broaden the scope of goods that get zero tariffs and make it even easier to trade with our biggest trading partner".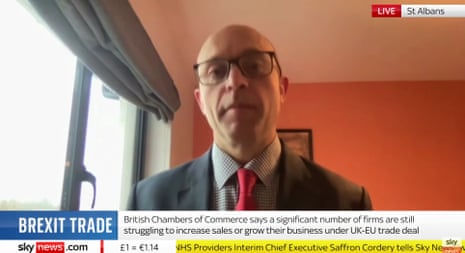 Quarter of ambulance patients had to wait more than hour for admission to A&E in England last week, NHS says
Pamela Duncan
Close to one in four ambulance patients in England waited more than an hour with crews before being admitted to A&E, in what was the worst winter week on record.
The record numbers came a week before thousands of ambulance workers, paramedics and others in England and Wales went on strike yesterday, leaving the NHS unable to respond to many 999 calls.
Almost 24% of patients arriving at English hospitals by ambulance waited more than an hour to get treated in A&E in the week to Sunday 18 December, or 16,379 patients, eclipsing the figures witnessed in the past six winters and likely the highest figures ever.
Just over 40% of patients arriving at hospitals by ambulance are waiting more than 30 minutes to be seen.
Other pressures are also being brought to bear: flu is adding pressure to an already embattled service with the number of patients with flu in hospital increasing by two-thirds in one week, similar to the previous week's increase.
More than 2,000 beds were taken up by flu patients on average in the week to 18 December; in the equivalent week last year that figure was just 32.
There were an average of 60,583 absences due to staff illness, up almost a fifth on last month, while the number of staff off due to Covid rose by a third since mid-November, to 7,218 each day.
There was near-record demand for the 111 service, with call levels up almost 60% on the same week in 2021, partly due to parents' concerns over Strep A.
In a statement NHS England said it had "prepared extensively for winter and industrial action", including additional bed capacity, extra call handlers and community falls services.
Prof Sir Stephen Powis, the NHS national medical director, said:
With more industrial action scheduled for next week, there will be disruption but we urge the public to continue to use services wisely by continuing to call 999 for life-threatening emergencies, use 111 online for other health conditions, and take sensible steps to keep yourself and others safe.
The Department for Education has announced that its holiday activities and food programme for schools in England will continue throughout 2023. The DfE says it has set aside £200m for the programme, which provides money to councils so that they can run clubs for pupils over the holidays, with free meals available for children who normally qualify for free school meals.
NHS expects surge in demand after ambulance workers' strike
Demand for NHS services is expected to go up after yesterday's ambulance strike in England and Wales. In an interview this morning Saffron Cordery, the interim chief executive of NHS Providers, which represents health trusts, said that demand was "significantly down" yesterday, but that that would change. She said:
What we think today, tomorrow, the next few days will bring us, actually, is quite a surge in demand for emergency treatment, people turning up at A&E, potentially calling ambulances because they are in a condition that has significantly deteriorated.
My colleague Caroline Davies has the full story here.
Rees-Mogg dismisses analysis saying UK GDP is 5.5% lower than it would have been without Brexit as 'absurd'
As reported here yesterday, the Centre for European Reform has published an analysis claiming that Britain's GDP is 5.5% lower than it would have been without Brexit.
Jacob Rees-Mogg, the former business secretary and leading Brexit enthusiast, has published an article for the Daily Express criticising the methodology used by the CER. The CER has identified a clutch of countries whose economic performance closely matched the UK's in the decade or more before Brexit, and it has compared the performance of this "doppelgänger" UK (a statistical fiction, based on the performance data for the comparator countries) since 2016 with the performance of the real UK. Rees-Mogg claims this approach is "absurd". He says:
[The model] maintains that by membership of the EU the UK economy will do better but then goes on to argue that this country should not be compared to the economies of Germany, France and Italy but to faster growing nations. These two arguments contradict each other.

If as the CER says the major continental economies are inherently slower growth than the UK surely we would want to be less associated with them and freer to operate globally. The fact that, since we voted to leave, we have performed better than all the major European economies save France, shows our success.

From the third quarter of 2016 to the second quarter of 2022 the UK grew at 6.2 percent, Germany 5.4 percent, France 7.6 percent, Italy 4.2 percent and Spain 5.9 percent.
Rees-Mogg is not the first person to criticise the CER methodology on these grounds, and in his report the CER's John Springford responds to these arguments. He does not accept that France, Germany and Italy would be better comparison countries to provide data on what would have happened to a "doppelgänger" UK that did not vote for Brexit in 2016. He argues:
Just because countries are of a similar size in a similar region, they do not necessarily have a similar economic model or growth rates. Better doppelgänger countries may be found elsewhere by the algorithm. Indeed, the UK's growth rate between the introduction of the euro in 1999 and 2016 was markedly different to France, Germany and Italy's. It was far closer to that of the US.
UK had worst growth across G7 in Q3, latest figures show
The UK is currently the worst-performing G7 nation in terms of quarterly economic growth, my colleague Graeme Wearden writes on his business live blog. He says:
The 0.3% contraction in UK GDP in Q3 reported this morning is worse than Japan's 0.2% fall in GDP, while Canada and the US both expanded pacily, by around 0.7%.

France (+0.2%), Germany (+0.4%) and Italy (+0.5%) all grew in July-September too.
Rachel Reeves, the shadow chancellor, claims this shows the Tories have lost control of the economy.
Graeme has more on this story on his business live blog.
Minister admits more needed to ease trade after damning Brexit business survey
Good morning. Two years ago on Saturday, Boris Johnson announced that he had finalised a post-Brexit trade deal with the EU. Never at a loss for superlatives, he said it was "the biggest trade deal yet, worth £660bn". In his statement he described it as:
A deal which will if anything should allow our companies and our exporters to do even more business with our European friends.
He also claimed – falsely – that under its terms there would be "no non-tariff barriers to trade".
This morning the British Chambers of Commerce has published a damning report on how that trade deal (the trade and cooperation agreement, or TCA, to give it its formal title, is performing, and it's damning. As my colleague Heather Stewart reports in her write-up, more than 1,000 business leaders were surveyed and three quarters of them said the deal was not helping them to increase sales, or to expand. Here is her story.
And here is the chart that shows the key result. (The chart comes from the BCC report, but it contains a typo; the light grey shading represents somewhat agree, not somewhat disagree, as the text makes clear.)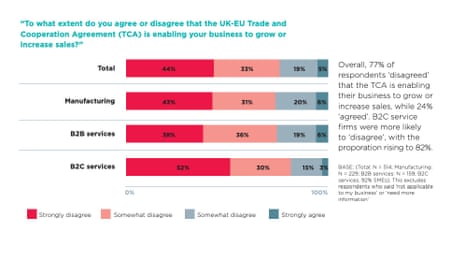 I'll post more from the survey soon.
There has not been much response from the government, but Mark Spencer, the farming minister, has been giving interviews and he told Times Radio this morning he claimed the government did want to reduce "red tape" for exporters to the EU. He said:
There's always more that we can do to try and ease the way and the passage of trade. We're very keen to do that. We're a free and open trading nation, we want to work closely with our EU colleagues, and we want to try and reduce that red tape, if there is any red tape, on their side of the Channel. So, of course, we want to keep those channels of trade open in both directions.
In London parliament is not sitting. But in Edinburgh Nicola Sturgeon, the first minister, is taking questions at 12pm, and then MSPs are due to conclude the debate on the gender recognition reform (Scotland) bill. The final vote is due at 2.45pm. It had been expected yesterday but, as my colleague Libby Brooks reports, the debate ran over time.
I'll try to monitor the comments below the line (BTL) but it is impossible to read them all. If you have a direct question, do include "Andrew" in it somewhere and I'm more likely to find it. I do try to answer questions, and if they are of general interest I will post the question and reply above the line (ATL), although I can't promise to do this for everyone.
If you want to attract my attention quickly, it is probably better to use Twitter. I'm on @AndrewSparrow.
Alternatively, you can email me at andrew.sparrow@theguardian.com.