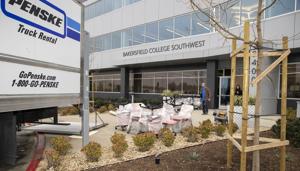 Bakersfield College's long-awaited southwest campus is preparing to open for the upcoming semester.
Last week, workers were wheeling in furniture and computers, touching up paint and putting the final touches on the new three-story BC SouthWest Center before classes begin Jan. 17.
The new center on the Cal State Bakersfield campus will be a place to take classes, buy books, study, use a computer lab and receive student services.
The campus features large windows allowing light to flood in. Because it isn't a traditional campus with a quad, it has small "hangout spots" built in along its halls where students can congregate, said Leo Ocampo, program manager for BC SouthWest.
The southwest campus is a part of the college's broader effort to bring college to its residents rather than expecting them to spend precious hours and gas money getting to BC's main campus on Panorama Drive.
A lot has changed since the college began planning the new BC SouthWest Center. Chief among them is a pandemic that has, to this day, shifted a majority of BC's instruction online. But the physical space offered by the gleaming new 60,000-square-foot facility still has an important role to play for the college, said Jessica Wojtysiak, dean of instruction for BC SouthWest.
Even students who have all their classes online will appreciate the center that offers student services, such as admissions, financial aid, counseling, education planning and veterans services, she said.
"Having those in person makes a difference," she said.
There is, of course, plenty of space for classes: about 50 classrooms, including larger lecture classrooms, according to Ocampo.
There are faculty offices, too, for those who spend most of their time at the center and even the Arvin center, Wojtysiak said. 
From the beginning, BC SouthWest has been viewed as a transfer center, so its offerings reflect the needs of those planning to move on to a four-year university, whether it's the university next door or farther afield, Wojtysiak said. 
But the center will also reflect a push toward preparing students for careers in health care, whether that's through pre-nursing classes, kinesiology or certificates for positions such as ultrasound or radiation technicians. It will also be a hub for many of the college's veterinary tech programs.
The center has lab facilities, which is key for both educators looking to fulfill a science requirement and those on track for a position in the health care field.
The approaching opening of the center marks the moment when BC SouthWest can finally achieve a measure of stability.
BC's first major effort in the southwest began in 2015 at what was then Fresno Pacific University's Bakersfield facility on River Run Boulevard. Enrollment began at 350 but grew quickly to more than 2,000 students. But the end of its lease left the Kern Community College District looking for another solution.
In 2019, the board signed a 20-year lease with University Office Center, a development from Gregory D. Bynum & Associates, Inc. BC SouthWest was without a home in January 2020 — that turned out not to matter until this recent semester since BC students have been largely receiving their instruction remotely.
The first classes of spring semester will be held on the first two floors. Late-start classes in March may be held on the next floor. Wojtysiak said the new center offers room for growth. 
"It's amazing to watch how this has transformed," said Wojtysiak.
Emma Gallegos can be reached at 661-395-7394.
Source link