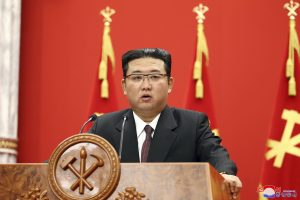 In this photo taken during Dec. 27-Dec. 31, 2021 and provided on Saturday, Jan. 1, 2022 by the North Korean government, North Korean leader Kim Jong Un attends a meeting of the Central Committee of the ruling Workers' Party in Pyongyang, North Korea.
Credit: Korean Central News Agency/Korea News Service via AP
North Korea held the fourth Plenary Meeting of the Workers' Party's eighth Central Committee from December 27 to 31. According to the North's state media, Kim Jong Un mostly focused his message on rural and agricultural development, as the country's economy has plummeted due to strict anti-pandemic measures to prevent the spread of the COVID-19 inside of his country.
Kim expressed his strong will to revive the country's disastrous economy. The U.N.-led crippling economic sanctions imposed on North Korea have intensified since Kim's ascension in 2011 due to the North's growing nuclear and missile threats against U.S. allies South Korea and Japan. Combined with North Korea's restrictive pandemic strategy, the result is that the country has been facing its worst economic crisis since the "Arduous March" of the 1990s.
While setting out plans to improve the economy, Kim also reaffirmed the North's overtures and policies on "inter-Korean relations and the field of external affairs" during the plenary meeting. State media did not provide details, while reporting that the country would "bolster the military capability."
This could be a signal that North Korea will not return to the negotiating table in 2022, implying that South Korean President Moon Jae-in's final attempt to reactivate the peace process before the end of his tenure in May will not work. However, it should not be interpreted to mean that Kim has no interest in sitting down with U.S. and South Korean leaders. As a powerful autocratic leader, Kim would want to recover his international reputation, tarnished after the debacle of the Trump-Kim summit in Hanoi.
Keeping quiet on North Korea's overtures and policies on foreign affairs, especially on nuclear talks and inter-Korean dialogue, could reflect a decision by Kim not to renew the stalled negotiations with Washington and Seoul. Alternatively, this lack of focus on international affairs might point to the decision to adopt a North Korean-style "strategic patience" approach toward the denuclearization negotiations.
Considering its current nuclear and missile capabilities, North Korea is going to complete its nuclear armament soon and become a nearly untouchable nuclear-armed country that can directly confront the United States. John Bolton, who previously served as national security advisor for former President Donald Trump, said that North Korea is one year closer to perfecting "nuclear, ballistic-missile technology and perhaps hypersonic cruise missiles" due to the Biden administration's first year of "frenetic diplomacy."
Kim's detailed listing of the country's missile programs at the January 2021 Party Congress – an unusual move from the leader of the most isolated country in the world – signaled that his stance on missile development amid the arms race on the Korean Peninsula remains unchanged. The North will not accept the U.S. deal on offer, namely North Korea's Complete Verifiable Irreversible Denuclearization (CVID) in exchange for the lifting of the economic sanctions, for the foreseeable future.
Kim's attempt to strengthen the North both militarily and economically to gain more leverage in the region implies that the United States and South Korea might need to offer better bargaining chips if Kim's economic plan works without significant support from China – Pyongyang's economic lifeline and largest trading partner – amid crippling economic sanctions and the COVID-19 pandemic.
Furthermore, if the North's economy recovers and thrives even under the economic sanctions and the pandemic, there would be no reason for Pyongyang to negotiate with Washington and Seoul. Kim would prefer to maintain the self-reliance approach in defense and the economy to ensure his supreme power and his safety until the end of his life. In this context, there is not much time for the United States and South Korea to negotiate with North Korea, as denuclearization negotiations seem to be getting derailed even further.
Some believe that the ball is in Pyongyang's court on the nuclear talks. Analysts in this camp assume that North Korea will eventually collapse under the U.N.-led economic sanctions, meaning Washington and Seoul do not have to rush to strike a bad deal with Pyongyang to denuclearize the Korean Peninsula. However, this scenario will not unfold under China's watch, since it would result in further isolation due to the U.S. and its allies' encirclement. Meanwhile, North Korea's nuclear and missile capabilities have been advanced continuously as Kim's father and grandfather chose this path to survive the United States. It is unrealistic to expect Kim Jong Un to change paths at this point.
Under the North's "strategic patience" approach, Pyongyang is not likely not respond to any U.S. and South Korea statements over its missile tests even if it harshly criticizes their "double standard." Additionally, North Korea's state media might not publish any statements from high-ranking officials such as Kim Yo Jong, a leading voice on inter-Korean relations, to condemn the joint U.S.-South Korea military drills that will be conducted in the coming months. However, Washington and Seoul should keep reaching out to Pyongyang with a list of detailed economic incentives the North can receive for restoring the dialogue through back channels as diplomacy is still the preferred route.
On Monday, South Korean President Moon Jae-in said that his government will pursue "an irreversible path to peace until the end" in his last New Year's address. However, such a development can only occur when the United States and China work closely together to tackle the North Korea issue. As the rising tensions between Beijing and Washington give unlimited time to Pyongyang to gain more leverage by building up more advanced weapons and improving the economy, the U.S. and South Korea should entice China to engage in the denuclearization negotiations more actively rather than providing help to North Korea behind the scenes.
To conclude, North Korea seems to be trying to circumvent or even change the regional status quo – military tensions without direct confrontation – which the U.S. and China have been upholding, by setting a sort of new approach, that of "strategic patience."
This piece was originally published by the Institute for Security and Development Policy and is republished here with permission.
Source link