Called Kupi Khop, this is Aceh fisherman-style coffee, brewed in a cup, stirred with condensed milk, then inverted onto a saucer where it stays warm and securely spill-free while the seas tumble and the winds blow. There's no turbulence or sea spray in Clayton, but the cultural resonance has definitely travelled. To drink Kupi Khop, you place a straw where the rim of the glass meets the saucer. Blow firmly and coffee burbles out to be sucked back up again. It's a drink, an activity, a cultural connection and it's frankly thrilling.
Owner Michael Samsia imports coffee from Aceh in northern Sumatra, roasts it in his little shop and brews to order. (You aren't obliged to have the upside-down version; there's regular espresso and a style called Kopiko, which tastes like the Indonesian lolly of the same name.) He also makes fresh noodles, inspired by the shop his mother's family used to run in a Jakarta market. When Samsia quit his job as a Telstra insurance manager in 2014, he decided to bring his family's noodle nous to Melbourne. We are lucky he did.
There are noodles of various thickness, all made fresh with wheat flour and eggs, using a machine that replicates artisan stretching and folding. If you like your noodles soft, you'll want angel hair, delicate thin noodles that soak up any sauce or broth. If you like them thick and chewy, you'll want fat shoestring noodles, which are less absorbent. I love the mie medan, a generous bowl of squiggly medium-thick noodles topped with roast pork, pork mince, chicken, greens and prawn wontons. It's served with a separate bowl of light chicken broth that you can add to the noodles or sip separately, as you wish. Everything is fresh, bright, elegant and made with evident care.
You can also have your wontons fried. Samsia rolls pastry to gauzy translucence then encases a little ball of spiced chicken mince in one corner. They're briefly sizzled in hot oil, the wrapper frying quickly to a crisp, blistered deep gold. Eat them while they're hot.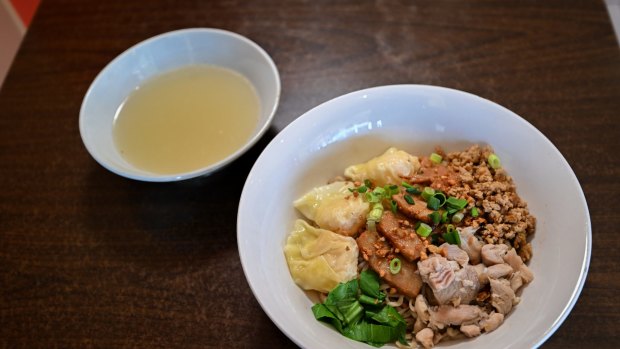 PBK is a small shop with an unassuming street presence. I find it amazing and heart-warming that we can simply walk in and engage with Michael Samsia's passion, heritage and creativity. The shop has been here for eight years or so, but the specialty coffee and broad range of noodles are new tweaks, a showcase of quiet dedication and dogged effort, numbered among thousands of daily acts of inspiring culinary heroism in this always delicious city.
Clayton Deli When this gorgeous, spacious deli opened in 1975, Clayton had a very different multicultural mix from today's Asian skew. This continental store is a great bet for Greek and Italian groceries, cold meats, cheeses and take-home meals such as lasagne and spanakopita. Looking for Christmas panettone? There are heaps of options here. 397 Clayton Road, Clayton, 03 9544 1968
Yes Tiny but bursting with Taiwanese options for snacking and feasting, this little canteen does steady takeaway trade but it's a sweet place for a casual eat-in meal. There are even games you can play at your table! Choose from street eats such as popcorn chicken, bao, bento boxes, pancakes lined with omelette and glistening "ecstasy" rice. 162 Clayton Road, Clayton, 03 9511 0737, taiwanyes.mobi-order.com
Banh Mi Bakery and Cafe Popular for good reason, bread is baked on site for fresh, tasty banh mi. As well as the classic crispy roast pork and chicken rolls, there's a good range of vegan options. Choose from lemongrass tofu, vegan pork or chicken, and even no-ham spam. 347 Clayton Road, Clayton, 0414 689 772
Source link