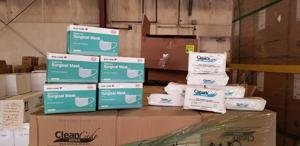 No matter what the magazines say, this holiday season's must-have gift isn't a neck massager or a multi-device charging station. Same as last year, it's PPE — personal protective equipment — judging by a recent surge in local philanthropy.
Just in time for the arrival of the highly contagious omicron coronavirus variant, large charitable organizations with access to masks and sanitation supplies are once again giving them out for free.
On Tuesday, Kaiser Permanente announced it is working with Community Action Partnership of Kern and First 5 Kern to distribute 19,600 N95 masks, 212,800 disinfectant wipes and 384 bottles of hand sanitizer together worth $1.1 million. The idea is to get the PPEs into the hands of individuals and organizations in need.
One day earlier, Southern California Gas Co. donated 358,500 masks worth more than $440,000 to Mercy Hospitals Bakersfield and the Friends of Mercy Foundation in preparation for another possible surge of COVID-19.
Mercy President Bruce Peters said the gift will "help us cope with the ongoing pandemic to protect our patients and staff, as well as help with our outreach programs that we continue to provide to our community."
These efforts have followed a generous gesture by a local dentist, Dr. Navid Safaei, who earlier this month offered 3,000 coveralls, 1,000 face shields and 500 isolation gowns to anyone having trouble getting them.
"The PPE was successfully donated to multiple organizations within Kern County," Safaei said by email Tuesday. "Recipients were very grateful."
No doubt they were: It was the first time in many months that Bakersfield had seen a large-scale PPE giveaway. Now it seems Safaei's act of goodwill was the start of a trend.
Kaiser Permanente's gift was made with the help of SupplyBank.org, a nonprofit that provides critical supplies to vulnerable communities. The idea was to help protection children, students, staff and people living on the streets.
First 5 Kern spokesman Kevin Bartl said in a news release the PPEs are important for making sure child-care workers and other service providers stay safe and healthy.
"The costs for these needed PPE supplies is great," Bartl said, "and many providers are operating on small budgets to begin with."
CAPK's director of administration, Pritka Ram, said his organization leverages its own programs, such as its food bank and head start program, to reach populations in need of help. He noted the distributions relied on the help of CAPK's trusted partners within the community.
A spokesman for SoCal Gas said the company was honored to contribute to Mercy Hospitals in light of the vital role community health-care centers have played during the pandemic.
"We also would like to take this opportunity," he said in the release, "to thank all the health-care heroes for everything they've done and continue to do to support the health and safety of the communities where we live and work."
Added Peters at Mercy: "We are overwhelmed with gratitude for this incredibly generous donation to Mercy Hospitals by the Southern California Gas Co."
Source link