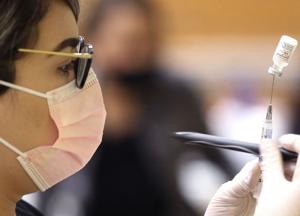 On Oct. 1, Gov. Gavin Newsom announced a plan to add the COVID-19 vaccination to the list of required vaccines for California students to attend school, once the vaccines received FDA approval.
The announcement made a splash, spurring both praise and protests. In the weeks since, many local school board meetings have been dominated by questions about how districts plan to enact a vaccine mandate. Some board members have staked out positions against a mandate.
But nearly two months later, the announcement is just that: an announcement. Now local school leaders who would be in the position of enforcing a potential mandate in Kern County have bemoaned the lack of information they've received from the state.
"What Gov. Newsom did on Oct. 1 was make an announcement that, as the governor of California, he intends to invoke vaccines across the state," Bakersfield City School District Superintendent Mark Luque said during last week's board meeting. "What did not come with that statement was any timeline or action plan to actually enforce a mandate."
Luque's point was echoed by other educational leaders throughout the county, who also brought up a number of challenges and concerns with respect to implementation that, to date, have not been addressed by the state, according to local officials. 
"We've had no information about that approach," Panama-Buena Vista Union School District Superintendent Katie Russell said at a meeting earlier this month. "It's been minimal."
Russell presented a slide that showed questions from the district and the community: Would laws be passed? Would there be court cases to block mandates? What would the verification process be for vaccines? Could students and staff be excluded from school? What kind of alternative options would there be for online learning?
Paul Meyers, superintendent of the Standard School District, worries about the worst-case scenario: a strict universal vaccine mandate that results in staff losing their jobs and students being pushed into distance learning.
"It is a bit of a paradox in that we all know that if enough people become vaccinated, the impact of COVID on our lives and in our schools will diminish significantly," he wrote in an email. "But if we mandate staff and students to become vaccinated in order to attend school, we could see a significant percentage of parents withholding their children from school and enrolling in private or online classes."
The Kern County Superintendent of Schools is urging patience among school leaders and the community.
"We're hearing everything," said Michael Hulsizer, chief deputy of governmental relations for KCSOS. "We're trying to get people to take a deep breath."
The announcement itself generated "confusion," he said. But the governor acknowledged in his own announcement that he doesn't have the authority to enact a mandate, Hulsizer pointed out.
"He got way ahead of his skis on that," Hulsizer said.
It's too soon to say exactly what a vaccine requirement for California might look like, but there are two possible sources for such a mandate: the California Department of Public Health or the Legislature.
Neither would do so without a vaccine receiving the FDA's full approval, and Pfizer hasn't yet submitted an application for 12- to 15-year-olds. That makes any kind of requirement by the beginning of the next school year very unlikely, according to Abigale Auffant, senior counsel with Schools Legal Services, which specializes in COVID-19 issues.
"We're quite a ways away," said Auffant. "That kicks the can down the road."
Local school leaders have said they have felt whipsawed by state guidelines and legislation from Sacramento throughout the pandemic, which have required big changes in their respective school systems with little direction or time to act.
However, if the CDPH takes up the issue, it won't unfold in the same instantaneous way that the mask requirement did, Auffant said. A vaccine requirement would require a formal rulemaking process, and it would be open to public comment.
Through this rulemaking process a personal belief exemption would remain, which is much broader in scope than even a religious exemption, she said.
It is only if the Legislature took up the cause that it could pass a law with only a narrow medical exemption, just as it has for vaccines against measles, mumps and rubella.
However, Hulsizer said that it seems very unlikely that there would be a one-size-fits-all COVID-19 vaccine requirement for every student ages 5 through 18. He said most likely is some kind of requirement rolled out in phases for different ages and with some alternatives. He pointed to other mandates, including one for school staff, where employees are given the option to test in lieu of receiving the vaccine.
"If we've given adults health-based alternatives, why wouldn't we do that for students?" he said.
School leaders are still worried about the prospect of last-minute state legislation. In a board study session, Luque pointed to independent study requirements rolled out by the legislature in July. That gave schools just weeks to create a distance learning option at the peak of the delta wave.
"We all have to recognize that Sacramento is last-minute with everything they do," Luque said.
You can reach Emma Gallegos at 661-395-7394. 
Source link