While the storage upgrade path for the PlayStation 5 is a little fiddley, on Xbox Series X/S you can get Seagate Expansion Cards. They're super easy to plug in and out, and now are available in sizes up to 2TB, facilitating fun for the whole family.
Epson EcoTank Printer ET-4850 ($649) As much as most of us want to stop printing things, we all have at least one relative who thinks they need to print out the entire internet, or sometimes you just need to print and scan things as part of having a home office.
Epson Eco Tank printers are the most cost effective in the long run, relying on cheap ink refills instead of having to get a new cartridge every time, meaning each page costs a fraction of a cent. The ET-4850 is the Rolls Royce of home office printers, functioning as a scanner, photocopier and fax machine, is able to print double-sided, and is the one we use in our home office. But if you don't need the faxing or double-sided printing, then the less expensive ET-2811 ($399) will suit most users.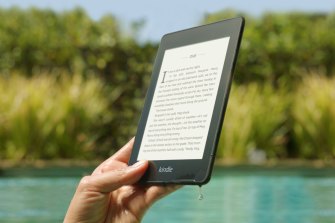 Kindle Paperwhite ($239) Paper books have a magic to them, untouched by distractions of the outside world. Unfortunately, all magic has a mortal weakness, and for books that weakness is water.
To give the gift of reading in the bath, the Kindle Paperwhite has a 6.8″ display, 10 weeks of battery life, and can hold thousands of books. It's better at maintaining that distraction-free magic of books than just putting your phone in a Ziploc Bag.
MagSafe PopSocket – ($44.95) Big smartphones are great, because they allow you access to the sum of the world's knowledge and stupidity at the same time. The only problem is that these devices seem to have been designed without any thought about how people are going to comfortably hold them for hours at a time.
Loading
Enter the PopSocket, once a stick-on permanent addition that would only stay with the one case (or face diminishing returns from the stickiness of the base). Folks with iPhone 12 or newer, however, can experience the joy of MagSafe PopSockets, which make the socket removable so you can have it when you need it, and switch to other accessories when you don't. It's a bit bulkier, but it's worth it to give the gift of fewer hand cramps.
Air Purifier – (From $799) Air purifiers are the very definition of boring but useful. They're not going to elicit the "Nintendo 64!" reaction from your recipient, but they are going to help them breathe better, which is almost as good.
The right purifier will depend on whether you want any other features (like heating or cooling) and the size of the room. I highly recommend the Samsung and Dyson purifiers, but any purifier with good air movement and a True HEPA filter will do the job.
Whichever gift you pick, I hope you and your loved ones have a wonderful and safe end to the year.
Get news and reviews on technology, gadgets and gaming in our Technology newsletter every Friday. Sign up here.
Source link