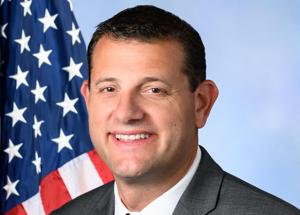 As the clock ticks for federal employees and contractors to get fully vaccinated against COVID-19 by Jan. 4 or face weekly testing, Rep. David Valadao sent a letter Monday calling on President Joe Biden to set aside the mandates for economic reasons.
The Hanford Republican representing California's 21st Congressional District said he had "serious concerns" with Biden's executive orders on the matter, saying that although he believes in vaccines and the science behind them, the federal mandates will be "financially and administratively burdensome" for organizations subject to the orders.
"Ultimately, this is a personal health care decision, not something the federal government should force people to do," Valadao's letter to Biden stated.
Also Monday, a federal judge temporarily blocked the Biden administration from enforcing the mandate among health care workers in 10 states, not including California, while a lawsuit challenging the requirement is litigated in court.
Valadao's letter appears to align him with House GOP leadership on a matter of intense global debate as COVID-19 fatalities continue to mount and worries spread because of the new omicron variant of the coronavirus.
On Sept. 12, Rep. Kevin McCarthy, R-Bakersfield, posted a three-word tweet, all in capital letters: "No vaccine mandates." Two days later, in an interview with CNBC's "Squawk Box" news show, the House minority leader said trying to increase vaccination rates using the "punishment method … will create more doubt."
A spokesperson in McCarthy's office said by email Monday that "consistent, accurate information from our public health community would do more to encourage vaccination rather than intrusive mandates."
Valadao's letter noted he was late in being sworn into Congress early this year because he had been diagnosed with COVID-19. He was lucky to have avoided serious medical complications, he wrote, adding, "it is a miserable illness" and that he has since been vaccinated against the disease.
"I believe in vaccines, I believe in science and I believe that the COVID-19 vaccine significantly reduces chances of hospitalization for COVID-positive patients," Valadao's letter states. "I have and will continue to advocate for everyone to consult with their physician about receiving the vaccine."
But his main point was that Biden's mandates, applicable as well to companies with more than 100 employees, will be costly and inconvenient, especially for workers who will be forced to get weekly COVID-19 tests. It will be particularly challenging in low-income and rural areas like his district, he wrote, where access to transportation is limited and not everyone can afford to take off time from work.
Valadao asserted Biden's mandates will exacerbate existing labor shortages and punish people who are working, including essential workers such as health care professionals, truck drivers and first responders.
"At a time when industries all across the U.S. are desperately looking to hire additional employees," he wrote, "we cannot afford to be deterring people from pursuing new jobs and looking for work."
The California Chamber of Commerce has issued guidance to businesses about the federal mandates. It has not taken a position in opposition to them.
"We continue to advocate for everyone being vaccinated who can be vaccinated," a chamber spokeswoman said by email Monday.
Source link