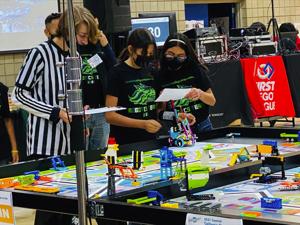 Robotics teams from the Wonderful College Prep Academy in both Delano and Lost Hills earned recognition at the 2021 FIRST LEGO League Central California Championship this month.
FIRST is an acronym meaning For Inspiration and Recognition of Science and Technology and competitors range in age from 4 to 16 years old.
The Delano team was inspired by the automated produce-sorting process at the Wonderful Halos plant in Delano, according to a release from The Wonderful Company.
"To reduce transportation costs and production time, the students proposed sorting the iconic Halos in the field before delivering them to the plant for juicing," the release said.
For their efforts, the team earned a Global Innovation Award Nomination. The Delano team will move on to compete in the 2022 FIRST LEGO National Championship in Houston next April.
The Lost Hills team won first place for the Core Values Award in their first showing at the event for demonstrating teamwork throughout the challenge.
"As a first-year team, I'm incredibly proud of what our students accomplished. Throughout the challenge, we maintained the mantra: We play to win, but we win together," said Justin Steiner, Wonderful College Prep Academy Lost Hills principal and robotics team coach.
Source link